Advertisement
October 06, 2005 15:00 IST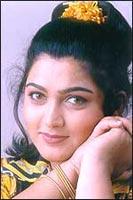 A remark on pre-marital sex and virginity by South Indian actress Khushboo has set off a major controversy. Now, the issue seems to have taken political colours with a Dalit party tacitly backing protests against her.
The beleagured actress has virtually been left to fend for herself by the South Indian Film Artistes Association (SIFAA). Compounding Khushboo's troubles is a political party waiting to get even with her for recent vociferous demands against a director who, in turn, had made certain remarks against actresses at a function in Chennai.
Now, dalit group members are out on the streets, not only demanding a public apology from Khushboo but also her arrest and 'deportation' from Tamil Nadu. A major opposition party has provided tacit support to the protests. The reason for this is the popularity of Khushboo, who anchors a popular quiz programme on Jaya TV.
PMK founder S Ramadoss and DPI general secretary Tol Thirumavalavan, however, said that their parties had no role in the series of protests. At a joint press conference in Chennai on Tuesday, they said the protests were 'spontaneous' and they were at a loss to understand why their parties' names were being dragged into the controversy.
Editor-in-Chief of The Hindu, N Ram said that whether or not one agreed with Khushboo, 'the intelligent and
experienced actress' 'forward-looking' views needed to be respected. Thirumavalavan, however, said that her remarks were 'against public order' and deserved to be condemned by one and all.
A few weeks ago, Tamil director Thanker Bachan, who has the support of the dalit group, made 'unsavoury' remarks against actresses who demanded severe action against him. At an emergency meeting of the SIFAA, Bachan apologised for his remarks. The dalit political party, which is part of the DMK-led Democratic Political Alliance in the state, seized Khushboo's remarks and protests soon mushroomed in different parts of the state.
On September 25, Dalit Panthers of India (DPI) had stormed the office of SIFAA in the city, demanding an apology from the actress who actually hails from Mumbai. Pattali Makkal Katchi (PMK), in alliance with DPI, has already been waging a war of words with the Tamil film industry demanding that Tamil films be titled in Tamil names, not English. They had even threatened to stop screening some films and staged a number of demonstrations.
PMK women's wing central Chennai district leader Deepam Jaikumar filed a civil suit in a metropolitan court on September 25 demanding action against Khushboo for defamation. The court issued notice to Khushboo, asking her to appear on October 5. Apart from the civil suit, five women advocates of Tiruchirapalli also filed a petition in the Judicial Magistrates court, seeking action against the actress under three IPC sections.
The Judicial Magistrate has also directed her to appear before court on October 14. DPI leader Thol Thirumavalavan has said that the tradition of Tamils is not lower than that of SIFAA, which had condemned his party's demonstration in front of their office. He also warned that if SIFAA did not shed its 'partisan attitude,' DPI would launch an agitation against it.
© Copyright 2008 PTI. All rights reserved. Republication or redistribution of PTI content, including by framing or similar means, is expressly prohibited without the prior written consent.