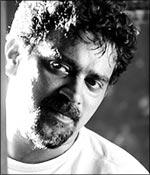 Navarasa is causing quite a sensation, what with it being shown at the prestigious Pusan International Film Festival, and winning the National award for best Tamil film.
Director Santosh Sivan spoke to Shobha Warrier about the reasons behind Navarasa, and how the film was shot during the Koovagam festival in Villipuram, Tamil Nadu.
The film is the story of people belonging to the third gender, the Aravanis. The Koovagam festival is a celebration of their very existence.
| | |
| --- | --- |
| | More on rediff.com ! |
| | |
The myth goes like this: Aravan is the son of Arjuna and Nagakanniga. When he is chosen as a sacrifice for the Goddess Kali during the Kurukshetra War, he expresses his desire to marry. But no woman is willing to be a widow by marrying him. Then, Lord Krishna assumes the form of Mohini and marries him. When she becomes a widow, she dresses up in white, breaks her bangles and cries, which is the scene recreated at the festival. This is why the Arvanis call themselves incarnations of Lord Krishna.
At the Koovagam Festival, people belonging to the third gender from all over the country --thousands of them -- assemble to enact the story of Aravan and Mohini.
Over to director Santosh Sivan:
What was the inspiration behind making Navarasa, a film on the third gender?
Actually, Navarasa just happened. Wherever I go, I shoot with my Digital Video camera. I happened to interview some of these people (of the third gender), and found their stories very disturbing. I thought it would be interesting to make a film on them, in the form of a documentary. I was also fascinated by the Koovagam festival.
But then we decided to write a story that could be developed into a film. What interested me was their belief in Aravan and Mohini, which can be traced back to 5000 years. I decided to give the film the look of fiction, documentary, period drama, and fantasy -- all moulded into one. I also wanted to shoot at the real festival, where 300,000 people assemble. The shooting was haphazard because it wasn't planned. We just landed there, with no idea of what we were going to shoot. It was hectic.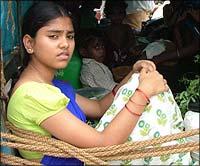 Did the story just evolve while shooting?
All I had was a storyline. I didn't know who my main character would be. But shooting a film like that was not new to me. Even the first film I shot in Arunachal Pradesh had no script. I just went there and made a film.
I had a simple story, but not conventional. It is about a modern, urban 13-year old girl (Sweta). When she has her first period, there is a big traditional function at home. Her grandmother digs out some of her old ornaments and gifts them to her. But it is her uncle who is fascinated by the ornaments and steals them at night. The girl is shocked to find this out, and follows him. Soon, she sees her uncle dressed like a woman with the ornaments round his neck. She goes inside and asks, who are you, my uncle or aunt? And he begins narrating the story of Aravan.
So the film is seen through the eyes of a girl....
Yes. We are watching the festival like her. We do not get into the festival. She sees all this and comes back with her 'aunt' to the household! 
Were they (Aravanis) co-operative? Did they resent an intrusion into their private affairs?
As I had interviewed a person called Asha Bharati (an Aravan), I got her help. They were very nice to us the moment they found out we were not going to ridicule them. Most of them are hostile only because people ridicule them. If you treat them like people, they will be nice to you. When I showed the film at the Oceanic Film Festival, a lot of people told me the film changes the general opinion about these people.
True. Hindi film generally ridicule them...
Most films do. Most of the time, others imitate them, and it is exaggerated. In our film, we do not have actors, only real people. They told us, 'We can also act.'
Is the film only for festivals? Or will Navarasa have a theatrical release?
Actually, I want to show it to the Tamil audience. It is interesting to note that not many in Tamil Nadu know about the festival. But the problem is, unless your film has a feature-film format, unless it has so many songs, it is difficult to release in theatres. Now that the film has won the National award, I hope it will be easier. But I feel television is a better medium for it.
I definitely cannot have a huge hoarding on Mount Road (in Chennai) with pictures of these people, although, at one point, I thought it would be a good idea!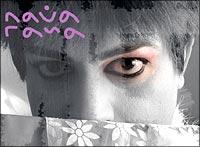 How was it received at the Oceanic Asian film festival?
Extremely well. I must tell you an interesting incident. The Aravanis do a lot of remix songs and dance at the Koovagam festival. On seeing these 'real' dances, some people thought I had made a Bollywood film! Also, not many believe there is a festival, because of the stigma attached to them. Interestingly, some also wanted to take the film to a gay festival, which is not what the film is all about.
You asked me why I made a film like Navarasa. I like to make documentaries like this once in a while, reflecting our times. Maybe ten years from now, the festival may not be there at all; they may even do it for television. Who knows?