Home > Movies > Bollywood News

Sushmita's 'very Hollywood' project

Subhash K Jha | October 04, 2005 19:04 IST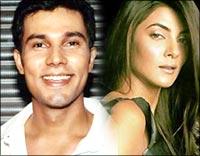 Considering it's being directed by New York-based Indian filmmaker Manish Gupta -- whose earlier credits include the comedy Indian Fish In American Waters -- how 'Hollywood'  is the much talked-about Sushmita Sen-Randeep Hooda-Drena de Niro project, Karma Confession & Holy?
 "Very Hollywood," informs Harish Dayani, Chief Executive of Sa Re Ga Ma. "Karma Confession & Holy will have some of the topmost names from Hollywood including Lysa Cooper, who's one of the biggest stylists in the world. Lysa will be doing Sushmita and Drena's look. The director of photography is Lisa Lene, who assisted Stanley Kubrick. Other Hollywood names are being finalised. The script has been re-written to give it a global texture and flavour."
While Sushmita and Randeep play a young Indian couple, Suresh Oberoi and Rati Agnihotri play the older one. Singer-actor Suchitra Krishnamurthy (who was seen recently in Ram Gopal Varma's My Wife's Murder) will be seen as a sari-clad Indian woman married to an American in the US.
"It will be a very Woody Allen kind of film covering three layers of characters -- Indians who have migrated to the US, Indians born in the US and Americans," reveals Dayani.
So is this finally the beginning of Bollywood's true merger with Hollywood? "It looks like it. We have plans of starting another Hollywood film early next year. The process of globalising Bollywood has started," Dayani adds.
While Karma Confession & Holy goes on the floors in the US this month, Sa Re Ga Ma has projects planned back-to-back  from now till the beginning of 2007.
In November, Sa Re Ga Ma will launch Geet directed by Imtiaz Ali (Socha Na Tha), starring Bobby Deol and Bhoomika Chawla. In Feburary 2006, Sa Re Ga Ma will launch its ambitious epic Draupadi, directed by Rituparno Ghosh. "The cast will be decided as soon as Ritu finishes his script," Dayani says.
Their next film will be directed by Ananth Mahadevan, and star two male and female leads. Mayur Puri (who assisted Sanjay Gadhvi in Dhoom) and Anubhav Sinha (of Dus fame) will helm two films, to be launched in July 2006. Anubhav's film is titled Race, and fits in the Dhoom genre.
Finally, in December 2006-January 2007, Samar Khan (Kuch Meetha Ho Jaye) will direct Sufi for Sa Re Ga Ma.


What do you think about the story?








Read what others have to say:





Number of User Comments: 6








Sub: holloywood

She is the better for ash am she will become a world best heroies. we love here very much she is very good looking than ...


Posted by mahesh









Sub: sush u r the best!!

It is really true that suchmita has such a unique elegance in her personality. we are all so much bored of good old 'ash' but ...


Posted by Divya









Sub: Hollywood project

Well it is a foregin film shot by foreginers, but sush is playing a indian role only. People kept criticising Ash for acting in indian ...


Posted by viswanath









Sub: Sushmita's 'very Hollywood' film

Definetly Sush is better than ash.Congrats sush!!and definetly am sure u will be the more sucessful than ash. Congrats Again


Posted by Kris









Sub: susmita

susmita you looks great in sari


Posted by suresh






Disclaimer