Home > Movies > Interviews

The Rediff Interview / Rahul Vaidya

Rahul Vaidya on life after Indian Idol

October 04, 2005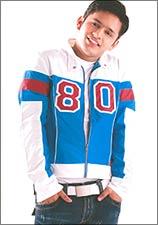 Rahul Vaidya, the second runner-up in Sony's hit reality television show Indian Idol, has launched his first music album, Tera Intezaar.
Sajid-Wajid (Mujhse Shaadi Karogi, Tere Naam) have composed the music for the 18-year-old singer's debut album.
The handsome Mumbai boy, who had many a woman swooning while the show was on, spoke to Patcy N about his new album, girlfriends, and more. Excerpts:
How is life after Indian Idol?
Very hectic. But this is the life we had desired. This was our dream. I'm happy, as I've reached this position from zero.
How did your parents react to your overnight stardom?
They were very happy. I didn't even realise when I became a star because we were shooting for Indian Idol and were so busy that we didn't even know how interested the world was in us.
But when I lost and returned home, people used to gather around me. Later, I had to have security for my building!
Watching Indian Idol with Rahul Vaidya
How did you benefit from Indian Idol?
The top five benefited from Indian Idol, the biggest being the recognition we got. Today, you are interviewing me because of Indian Idol. Otherwise, I would have had to struggle for six-seven years. Indian Idol gave me a shortcut to fame.
Was your education affected by the show?
I was in in standard XII when I shot for the show. I have discontinued my studies now, but will do it through correspondence.
Do you meet up with the other contestants now?
We do meet up. It's great fun to be in a group and tour places. I'm close to Abhijeet Sawant, Prajakta Shukre, Aditi Paul and Vishal Kothari. We would go to parties and discotheques. I don't meet Amit Sana often. He has his own set of friends.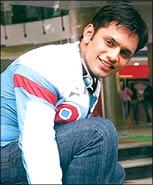 How does it feel to have an album of your own?
It was a dream. I always thought I would release an album and my songs would play on the radio. Now, the dream has come true.
Did you always want to be a singer?
I don't come from a musical family. I did not want to become a singer since childhood. But when I was seven, my father was transfered from Nagpur to Mumbai. 
Once I sang a bhajan for the Ganpati festival and someone gave me Suresh Wadekar Institute's address. After listening to me, Sureshji told my parents that I should take music lessons. I learned music for six years. That's how I became serious about a singing career.
What was the making of your album like?
I would give a lot of suggestions. I wanted to do so many things -- but Sajid-Wajid would calm me down.
I was a big fan of Sajid-Wajid even before Indian Idol. I've always wanted to meet them and ask them to listen to my songs even if they did not give me work.
Sajid-Wajid were very particular about the songs. It was difficult to give a romantic feel to the songs. Also, I'm never depressed, so it took me days to give a sad tone to a song!
Which is your favourite song in the album?
Tere Liye. But Tera intezar will become a commercial hit.
You recently sang for Shaadi No 1. Tell us about it.
I sang two songs in the film. Hello madam was picturised on Sanjay Dutt and Sau raab de was picturised on Fardeen Khan, Zayed Khan and Sharman Joshi.
I was paid about Rs 10,000 for each. Singers get more money from stage shows than film songs. I get about Rs 1,50,000 per show.
Any acting offers?
After Indian Idol, I got two film offers and a Marathi serial. But I did not take them up, as I was very busy.
What other films are you singing in?
I have sung a song in Kis Ko Pyaar Karu, starring Arshad Warsi, one in Jigaysa: The Ambition, starring Hrishita Bhatt, and Hot Money.
How do you select your songs?
I don't select. I'm doing everything that comes my way. I'm not in a position to choose!
Do you have a girlfriend?
Everyone wants a girlfriend in college, and I was no exception. I did have one for one or two weeks. But it fizzled out.
When I became popular after Indian Idol, she called me. But I didn't take her call. I think she called only because I became famous.
Do you think Indian Idol 2 will be just as popular?
Indian Idol has become a craze. As we have a contract with Sony, we will publicise Indian Idol 2. I would love to participate in it as well!
It's an experience of a lifetime.


What do you think about the story?








Read what others have to say:





Number of User Comments: 43








Sub: request

Hi ! rahul i am big fan of u. I like ur song "Tera Intazar hai" most. Really. Rahul, plz don't say no but I ...


Posted by ashwin









Sub: hi rahul

hi rahul this is suneet ,my sister is ur big fan she just only want to see u face 2 face.plz tell how can i ...


Posted by suneet agrawal









Sub: helloooooo rahul!

hi rahul, i just want to say something..... there are so many reasons why i think so much of you, and i don't mention it ...


Posted by sinchita majumdar









Sub: RAHUL VAIDYA

Hi Rahul dada i am a Marathi girl.I thing that ur the best singer.You are my INDIAL IDOL.I wish u all the best for your ...


Posted by yashasvinee









Sub: brilliant............lovely

i don't love your name and fame,i cried so hard when you was out of indian idol.i love you rahul.i am a marathi girl who ...


Posted by anu






Disclaimer