November 30, 2005 15:17 IST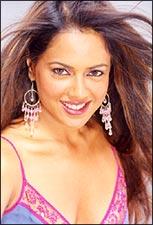 Can Sameera Reddy [
Images
] act? Admittedly, it sounds like a trick question, where you say No and someone replies 'but she acts pricey all the time.' But veteran Bengali filmmaker Buddhadeb Dasgupta is the man with the trick here, as the bombshell has drawn rave reviews from critics and audiences alike with her strong, understated performance in
Kaalpurush
.
The film, starring Mithun Chakravorty and Rahul Bose [
Images
] in the lead roles, explores the dynamics of a father-son relationship, while focussing on how the happiness in both characters' lives stems from their relationships with their wives.
Sameera gushes, "It's been an ultimate pleasure to work with Buddhada."
Her character is that of a simple Bengali housewife, not highly educated yet very motivated and aspirational. Discarding her loser husband, she becomes a super-successful travel writer, even if her sources are travel videocassettes. It's an interesting character, but was she confident she could rise to the challenge? "It's all because of Buddhada. The fact is he moulded me to understand a different kind of cinema, and appreciate its excellence."
Dasgupta is characteristically defensive about his actors, and frowns on labels. "Why not?" he asks bristling, when asked why he cast Sameera in the role. "An actor is an actor. There should be no labelling -- mainstream actor, art film actor, serious actor, comic actor. You can't brand an artiste and take away the fact that he or she wants to do something genuinely different."
Sameera's film credits so far have not been anything to boast of, her roles being skimpy -- both in terms of lines and fabric. Wasn't this a deterrent when considering her for the character? Buddhadeb explains, "I hadn't seen any of Sameera's films before I cast her. She came to me and said she was interested in doing the film and, after her audition, I immediately felt I wanted her on board.
"Then there arose the question, 'Can she act?' but I think she's silenced critics with this performance. She's done wonders."
On playing a lower middle-class Bengali woman, Sameera says, "It's important to me that I need to know what my character is about. Buddhada explained each and every facet of her life to me. When I went to Kolkata, I had to get into the skin of the character. Even the sari is worn differently by Bengalis! I wore a cotton sari and a bindi, and spent time soaking up the atmosphere and learning the voice tones."
Sameera claims she practised her Bangla mannerisms for a couple of days, but even if she spent months rehearsing, her performance in Kaalpurush is impressive, by any standard.