Home > Movies > Message Board

November 30, 2005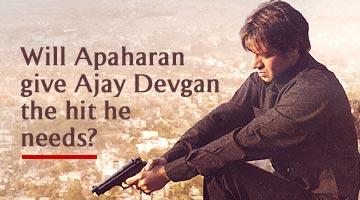 Ajay Devgan has been having a bad year. None of his films, except Karan Johar's Kaal, have clicked at the box office.
The bad luck began with Insaan, and continued with films like Blackmail, Zameer, Tango Charlie and Main Aisa Hi Hoon. And this, after the actor delivered hits like Khakee and Masti, and critically acclaimed performances in Raincoat and Yuva, just the year before.
His next release is Prakash Jha's Apaharan, which opens on December 2. The duo have previously worked on the hit Gangaajal. Devgan has also had a previous hit in Zameen, with his costar in the film, Bipasha Basu.
Do you think Apaharan has what it takes to give Devgan the hit he needs? Tell us!
Don't Miss!
Apaharan on rediff.com
Ajay Devgan: I'm a reserved person


What do you think about the story?








Read what others have to say:





Number of User Comments: 25








Sub: hi ajey devgan is good flim apraham is the best this year

ajey is good actor he alweys brings the best flims in india i intrest to wacht his flims ajey devgan flim who directed aparaham was ...


Posted by cumar









Sub: hi

hi ajey devgan


Posted by omar









Sub: Will Apaharan give Ajay a hit? No to Ajay and YES to Nana

Hi I watched this movie only to see the performance of Nanpatker.Actually he is the \'HERO\' in this movie.His performance was very good and direction ...


Posted by manoj









Sub: apaharan

undoubtebly one of the good movie i have seen in recent time.good performance from ajay aswell.i expect it to do well


Posted by raghu









Sub: A good movie

Hi, It is very difficult to predict whether it will be a hit or not. But definitely it is a good movie, which everyone should ...


Posted by Yashpal Singh






Disclaimer