Advertisement
November 29, 2005


Director Nagesh Kukunoor has wowed audiences and critics alike with his Iqbal, arguably the best-reviewed film of the year. The feelgood film is among two Indian films selected for the competitive section at Goa's [Images] International Film Festival of India, and the director is walking around casually, trying to take in a film or two.

Attempting to avoid the glare from the sun and the flashbulbs, Nagesh bought Raja Sen a cup of coffee. Here are some excerpts from the conversation:

Enjoying Goa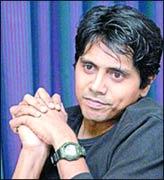 ?

Tremendously. It's great to be here. I love the atmosphere.
Are you working on anything now?

I have been writing my next film, but that's (what I have been doing) in the US. Right now, I am here for the festival, but I must admit, when I first got into my hotel room, which opens out to the beach, my first, instinctive urge was to lock myself in for four-five days, and just write! But I controlled myself. (Smiles)

How excited are you about Iqbal being the only Hindi film in the competitive section?

Very. It's still great to just be able to see people who are excited about your film. I don't know if we even stand a chance, but it's a great honour to be the only Hindi film in the running.

What about the other films in the competition? What have you seen so far?

Ironically, the one that really blew me away was (director Kamal's Malayalam film) Perumazhakkalam. And that's the only other Indian film in competition! I remember watching it the first time a few months ago, and being totally overwhelmed by it. It's a beautiful film.

What about the foreign films? What do you think of this year's selection?

It's interesting. Because it has got a mix of Asian, African and Latin American films. I am intrigued by films from places I haven't seen. For example, Brazilian films have a whole different dynamic. But which is the only one we have all seen? City Of God. So I am going to try catching a lot of unpredictable films.

You haven't earmarked any particular ones?

Not really, because I don't believe in synopses. A great synopsis can make a pitiable film look good, while a rotten synopsis might lead to you missing a very special film. So I am going to basically trust my instincts. That's what I would advise the audience to do as well.

Anything interesting you'd recommend from the Indian panorama? Besides Perumazhakkalam, that is?

I am thrilled at the idea of the Hrishikesh Mukherjee retrospective. I love Hrishida, and think he was one of the best directors we ever had. It'll be so amazing to see his classic films in theatres! That's something our generation really missed out on. I am going to try and catch as many as possible!

Paheli [Images]'s also playing at IFFI, but in the mainstream, non-competitive section. How did you feel about it's entry to the Oscars?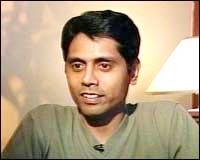 I have not seen Paheli yet, but it's an Indian film, and all the best to it.

Iqbal was in the running too. Did you think it was rejected because post-Lagaan [Images], we didn't want to send in another cricket film?

(Laughs) You know, I wasn't even aware of it. It's just a bunch of friends and journalists who suddenly started texting and calling me, to find out what I felt about Iqbal not making it. I don't know what the criteria were for selection. And no, I won't lie: if Iqbal would have been sent to the Oscars, I would feel great. But it hasn't, so I am quite alright with that as well.

Have you come to terms with the success of Iqbal?

Not really. I love the film, but then I love all my films. 

Do you agree with the statement that it's your best film yet?

(Pause) Not yet. I still can't be objective about Iqbal, it's just too soon. Maybe after six months I could look at the film and see what I made -- and how well I made it -- but as of now, it's still too recent.

Was there any one moment in the film that made you think it'll work?

It's all about the moments. There are moments in all my films that stay with me. There are bits of Bollywood Calling that, even when I was finishing the post-production on the film, made me laugh out loud! That's a great sign, because even when you have written the joke, and you have said it, and it still makes you laugh, it means you are saying it the way you want to.

With Iqbal, when I was completing the film, I remember that every time I would see that final sequence, the one where he is entering the stadium, I would get all choked up. I still do. When that happened, the fact that I was getting emotional about the film despite not being distanced from it yet, I knew that the film worked. At least for me.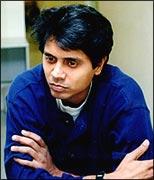 We are sitting next to something called the Film Bazaar. How important do you think that is? 

I believe that the Film Bazaar is the most important part of the festival. There are certain festivals, like the New York Festival, for example, which are all about films. It's not for selling films, but each film screened is a masterpiece. Then, on the other hand, are festivals like Toronto and Berlin, where it's all about selling films.

I think the IFFI festival can, if the organizers are dedicated enough, develop into a middle-path festival, where we can both watch good films and sell them overseas.

But it's an uphill battle. Right now, this is really small.

Oh, it's tiny. But we can all hope that it grows into something seriously big.