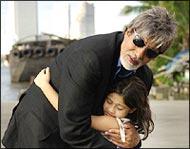 So there's this guy. He is anti-life. But then he meets this picture perfect couple and their peachy daughter. Seeds of positive changes are sown in his resentful existence. Uh oh! Bad goons nab candyfloss kiddo leaving Mum 'n' Dad in a state of paranoia. Brooding stranger swears vengeance!  

Without beating around the bush any further, let's just say Ek Ajnabee appears to draw visible inspiration from the Denzel Washington-Dakota Fanning thriller, Man On Fire.

Directed by Apoorva Lakhia (Mumbai Se Aayaa Mera Dost), Ek Ajnabee, which by the way looks utterly snazzy on promo, features Amitabh Bachchan, Arjun Rampal, Perizaad Zorabian, Vikram Chatwal and Rucha Vaidya.  

While Amar Mohile is in charge of the album, the rocking duo of guest composers Vishal-Shekhar pitches in to showcase their talent in the high-voltage, dizzy, riveting title track, Ek Ajnabee (Mama told me). Chunks of Arabic origin, slices of alternative rap and bits of desi beats make Ek Ajnabee an unconventional recipe for the conventional palate. Delectable, nevertheless.

Kailash Kher's rustic rendition of Barf khushi hai struggles to rise above the elite, alas bleak, tunes of the film. 
Kunal Ganjawala gets into his characteristic Tra la la element breezing effortlessly through the gingery Tere liye.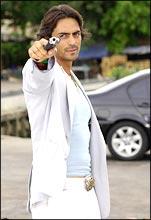 Blast! There is nothing tra la laish about Ganjawala's sinister rendition of They don't know. Mostly blasphemous in mood, cuss and not melody is the USP of this wickedly cynical rant/rap! Picturised on Sanjay Dutt, in a special appearance, this one promises to kick some serious butt on screen. If you are the type who enjoys nuisance in the name of music, you need not resist its feverish trance mix titled Blast u between ur eyes.

K K and Sunidhi Chauhan sleepwalk through the ticking beats of the animated Punjabi ditty, Soniye. It's yet another Punjab goes to London enterprise. Not saucy enough to be highlighted, though. It has a Mix'n'Match version too. And how would that be? Throw in a dash of Usher's Yeah, simple.

If ripping off liberally from Prodigy, Paul Oakenfold and Moby weren't enough, music director Mohile brazenly lifts the theme song of The Mask of Zorro -- I want to spend my lifetime loving you --performed by Marc Anthony and Tina Arena. Hear the instrumental, Stranger on the prowl, and you will know what I mean. As an aside, Anthony played a key role in Man On Fire as well.

The soundtrack of Ek Ajnabee tries very hard to make a style statement. And that's where it falters, in trying too hard.