Home > Movies > Interviews

The Rediff Interview / Prakash Jha

Prakash Jha, on Apaharan


Raja Sen | November 25, 2005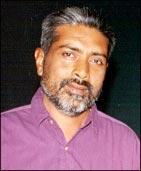 Prakash Jha is returns to the marquee with a new film, Apaharan, starring his favourite actor Ajay Devgan. The duo had previously worked on the hit Gangaajal. Apaharan, also starring Nana Patekar and Bipasha Basu, will release on December 2.
Jha talks to Raja Sen about his film.
What's the first thing you'd like to say about Apaharan?
This is an idea I've been working on for quite some time, three years at least. It is about the whole business of kidnapping; it's not about an incident. There is a huge cross-section of people involved in the business of kidnapping. So, it doesn't remain a crime; it becomes a culture.
There are ringleaders functioning from behind prison; people in hiding who run parallel governments in Bihar. But more than that, of late, what struck me was that people have become immune to it. People in Bihar are not shocked anymore if they hear about kidnapping, if they hear about deaths because of non-payment of a ransom. It's like an everyday affair for them. So I began talking to people, went to prison and spoke to people involved in it, spoke to those who had been kidnapped, and that formed the backdrop. In this backdrop, one has woven an emotional story of a young man, his trauma and trepidation and also his relationship with his father. It is about the choices he makes in life instead of the choices his father makes.
It is essentially about the evolution about the character, Ajay, who goes through a lot of trauma. He's trying to be successful, he's trying to do something. But he's constantly being pushed into this background: because of the choices made by his father, he's sucked into this world of crime. The film is about his experiences, his relationship with the Nana Patekar character and, eventually, the realization and steps towards redemption, to complete his journey.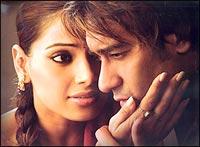 What is the protagonist like? What is Ajay's personality like?
It evolves. It begins with a nondescript young man trying to establish himself. He loves a girl, wants a job, just wants to settle down. His father doesn't expect much from him; he doesn't expect much from himself. He has great potential, but he's completely oppressed by all that is around him. When, eventually, he gets sucked into the other world where there is freedom to express himself in the manner he wants to, he excels. The idea is that the whole romance of crime is too alluring for this generation. Today, young people are involved. It's too easy!
The other interesting character is Nana Patekar's. Who is he, exactly?
He is a minority leader, a politician who also runs the business of kidnapping. There are people in government who take a share of his loot, and he does everything with total conviction. He develops a relationship with Ajay and the two of them do very well, until Ajay realises the truth of this relationship.
Therefore, to Ajay, this Nana Patekar character mirrors his relationship with his father?

Absolutely. He begins to have the illusion that this is the father he should have had. Nana Patekar begins to believe that this is the son he should have had. The two develop a close relationship that runs parallel (to the actual father-son relationship), until disillusionment takes place. Ajay returns and the father claims his place.
Why is the son's relationship with his own father, played by Dr Mohan Agashe, so estranged?
The father is an idealist, his standards are very high. He does love his son and respects his individuality, but, at the same time, he is too constrained. He can never talk to his son normally. He could never give him a push. He could never do him a favour. And Ajay is too awed by the halo around Mohan Agashe.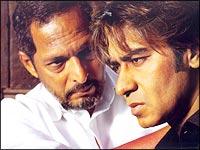 This also brings up the question of how much the father is expected to do.
The father is a Gandhian. He says 'Truth must prevail.' He says, 'Be strong and fight it out.' The father will not compromise even for the benefit of the son. A father like this is a rarity in these times, but a rarity will have to suffer. That is the reality. These are questions I have tried to answer in this film.
And how does Bipasha fit in as the love-interest?
Bipasha's character is not merely a love-interest. She mirrors his conscience. During the formative period when he is struggling, she supports him like a rock. Even when she's faced by humiliation from her own father, she stands up for him. Whenever he slips, she questions it. She eventually uses his conscience to bring him back. It's a very important role.
How do you see this film in terms of your filmography? How does Apaharan fit in?
I've made all kinds of films. I started with Hip Hip Hurray, which is a light-hearted comedy young people loved, and still love. In that genre, many years later, I made a film called Rahul, about a young boy. To some extent, there was Dil Kya Kare, which was popular cinema. Then there was Bandish, which was a completely crass, commercial film. I don't know how I got involved in that. Then there was Damul, there was Parinati. Completely pure art cinema. Stories told as they were. There's the genre of Mrityudand, Gangaajal, Apaharan, films that the commercial mainstream cinema calls 'realistic'.
When I do a film like Mrityudand or Apaharan, my characters are mouthing dialogues and showing concerns far closer to real issues. But they are using sentences and words much closer to mainstream popular cinema. It is an experiment between content and form.
So is this genre a compromise for you, trying to straddle both commercial cinema as well as art film?
No, it is an education, a challenge. I am trying to perfect it, and I am learning with every film. I think I might have achieved the balance better with Apaharan, because of its very real backdrop.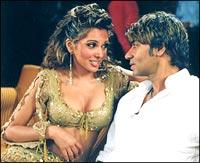 Is this the genre you will be working on from now on?
Yes. In fact, I am looking at doing newer subjects because sometimes it does begin to tell on me. I'm working with subjects that are very different. Subjects that deal with the supernatural, the extra-terrestrial, the cycle of life, etc. Anything that fascinates me, basically.
What about a completely commercial film, like Bandish? Would you make one of those again?
Never again. I will probably attempt a nice, unique relationship film, an intense one. I did Mungerilal Ke Haseen Sapne, which was a comedy serial, so I would like to make a comedy. So yes, I will make lighter films.
When you speak about Damul, you always seem a lot more wistful, a lot more affectionate. Are you personally fonder of that work?
Definitely! It's a very innocent film. Innocent as a filmmaker's film, where one is not loaded with any kind of commercial expectations. You've seen a subject, you've worked it out, and you go and shoot it. You don't bother about how you live, how you eat, what you do. You shoot the film, and it works. But when it's a film like Apaharan: the amount of expectations, involvement of people, commercial aspects, marketing, promotion – it's simply like any other film.
With 'multiplex cinema', it's possible for independent filmmakers to get out there and present their work. What do you see here?
Great things. It's just great. What we missed out on, and what I'm now trying to do with my company, is provide the frame and infrastructure and get other directors to work. I feel that'll work well. Now, the possibility of doing a smaller film you believe in with a smaller cast and putting it up on screen is much higher. It was impossible in our time. Two of my best films, Damul and Parinati, were never released. I can probably do that now, show them in multiplexes. (Smiles)


What do you think about the story?








Read what others have to say:





Number of User Comments: 3








Sub: apaharan

prakash jha sir, blunder movie, i congratulate u in advance for its success.


Posted by faisal









Sub: prakash jhas direction

I am a theatre actor. In presently i do very popularly shows at Nattyamela at Nandan pragann. I very muchly appreciated Patkar's acting.You are my ...


Posted by Biswajit Biswas









Sub: triod - nana - prakash - ajay

hi, I just want to say that the triod of nana patekar, ajay devagan,& prakash jha when come together, what ever the subject may be, ...


Posted by Inderjeet Minhas






Disclaimer