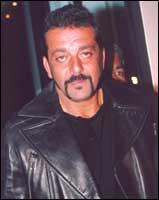 Sanjay Dutt, who made his debut way back in 1981 with Rocky, is still going strong in Bollywood.
Unlike his contemporaries -- such as Sunny Deol, Jackie Shroff and Anil Kapoor -- Sanju can still churn out hits.
But the 46-year-old actor seems to be in the news more for his off-screen doings than his films.
The Mumbai police alleged he had a hand in the Mumbai serial bomb blast conspiracy in 1993 that killed hundreds of people. He spent more than a year in jail and was released in 1994 on bail by a Terrorist and Disruptive Activities Act court.
But, with more than 100 films to his credit, the actor is still a box-office star.
"He is a survivor," says veteran filmmaker Mahesh Bhatt. "Any other actor in his place would have collapsed by now but Sanjay is made of metal. Like his father Sunil Dutt, he has proved that he can come back on top anytime in spite of crises in his life."
Bhatt was one of the first directors to see Dutt's potential, when others in the film industry had written him off as an actor.
"When I directed his first major hit Naam in 1987, I found out that he was innocent at heart," Bhatt recalls. "He is very talented and there is an aura and attraction in him that people love him to see on the screen."
When it was alleged that Sanjay knew beforehand that terrorists would blow up the Bombay Stock Exchange in March 1993, actor-turned-politican Shatrughan Sinha reorted, 'Don't be ridiculous. He doesn't event know what a stock exchange is!'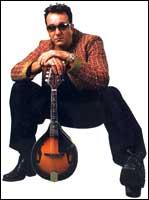 Sinha stood by Sanjay even when the Bihari actor's party, the Bharatiya Janata Party, was demanding Sanjay be punished for his 'role in the Mumbai blasts'.
Not many people know Shah Rukh Khan suggested that Sanjay play the protagonist in Munnabhai MBBS. Yes, it was SRK who told producer Vidhu Vinod Chopra he should cast Sanjay Dutt.
The film went on to become such a big hit that it inspired Kamal Haasan to remake it in Tamil (called Vasoolraja MBBS), and Mira Nair to buy the rights of the film. She hopes to remake it in English as Gangster MD, and cast Chris Tucker in the lead.
But Sanjay has had his share of ups and downs. He started with hits like Rocky and Vidhata in 1981-1982, and then had a series of flops. He bounced back in 1987 with Naam and Kabzaa in 1988.
In 1990, when he did Thanedar, Sanjay proved he could be a good dancer too -- with the hit song Tamah tamah, with Madhuri Dixit. He scored another hit with Khalnayak, once again with Madhuri, in 1993.  
But that was when his luck ran out, and he got into trouble about the blasts case.
Even after he was released, lady luck seemed to have ditched Sanjay. All his movies bombed. And then, Mahesh Manjrekar's Vaastav happened in 1999.
Sanjay bounced back into the big league.
Apparently, Manjrekar did not know how to approach Sanjay. He simply landed on Sanjay's sets and told the actor he had a role for him.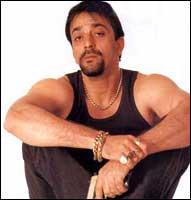 "Sanjay agreed to do the film though I didn't even know him then. It is his greatness that he gave me a break at that time --when I was nobody in the film industry," says Manjrekar.
"If Sanjay Dutt was professional in managing his career, he could have been the top star of our country. There was a time when he was neck to neck with the top actors but he slipped because he gave more importance to friendships in the industry than his movies," says film trade analyst Taran Adarsh.
"Sanjay made some wrong choices. But today, he is in the 'A' list of actors. He is the darling of masses and continues to get the best projects," he adds. 
The big question is, can Sanjay Dutt bounce, again?
"Baba [Sanjay] has a very strong personality. He comes from the family of Duttsaab and the great Nargisji. All that contributes to his personality. Everytime he is written off, he comes back with a bang. He has the charisma and can come up any time in life," says his close friend Manisha Koirala.
"He has tremendous goodwill in the film industry. He is innocent at heart, caught in wrong situations -- just like his character in Naam. He will come out stronger every time he is put down," Bhatt declares.