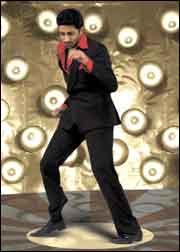 Either Abhishek Bachchan loves to don a swindler's cap, or his alter ego Bunty of Bunty Aur Babli fame has got something to do with it.
Whatever be the reason, the currently hot actor is at it again as he plays the Bluffmaster.
Helping him in his devious schemes are Priyanka Chopra, Riteish Deshmukh, Nana Patekar and Boman Irani.
Going by the movie's flamboyant teasers, Rohan Sippy's second attempt at direction looks like a far cry from his debut romance, Kuch Naa Kaho.
The same dishy quality is embodied in its zany music comprising sassy remixes and exotic new-age ditties.
The soundtrack kickstarts with attack of the clones, albeit in the glorious company of the original. The baap of all entertainers Mehmood comes alive through the upbeat, upscale remix of the unforgettable Sabse bada rupaiya. What can you say about a song that talks, mocks and rocks money? Wow, maybe? Layered with fancy mambo beats, this one makes for one hell of a tequila shot.
| | |
| --- | --- |
| | More on rediff.com! |
| | |
We live in the age of fusion. Be it food, clothes or music. Aneela, Robert Uhlman and Arash's Say na say na reflects all that and more. One can't go wrong in a number that is Punjabi at heart and Westernised in appeal!
Remixing S D Burman would raise many an eyebrow. But if tampering with legends doesn't bother you so much, Sameeruddin's chilled out 'destiny mix' of Geeta Dutt's Tadbeer se bigdi (from Guru Dutt's 1951 film Baazi) provides the perfect background for unwinding at the nearest lounge bar.
What Big B can do, Small B can do better? Debatable! That said, Abhishek Bachchan's rasping voice operates smoothly on the ear buds. Sunidhi Chauhan co-stars with the young AB on the super-stylised Right here, right now. Its hip hop mix, also by Vishal-Shekhar, is sure to get your feet tapping.
Trickbaby enraptures your senses with the seductive, dark and ravishing Nine parts of desire. It has the vision of an opening 007 movie track and a hint of
earthy sensuality
. The Hindianised version of the same, Parde ke peeche, holds its own with oodles of spice and groovy charm.
Moving away from the jet-setting tempo of Bluffmaster! comes the Gateway theme. This one's generous in emotion and effectively tender.
Uhlman and Arash take charge of the vivacious Bure bure boro boro. Though heavily accented, the Middle-Eastern flavours of this creation are pulsating enough to set the club scene on fire.
Original composer Rajesh Roshan may flip on hearing Sameeruddin's delirious version of his bouncy Do aur do paanch. Psst... you may have to down a lot of spirit before you woo hoo through this one!
More oldies thrown your way! Aasha's Eeena meena deeka and Sauten's Shayad meri shaadi are as compatible as Audrey Hepburn and Mick Jagger. And the marriage of the two, namely Indi-yarn, is deliberately bizarre, twisted and oddly fascinating.
Bluffmaster! lends another quirky gem from Trickbaby's album, Hanging Around. This one's called Neelaa and it doesn't let you down either.
The soundtrack of Ocean's Eleven and Twelve could easily be declared a reference textbook for all con or corny capers. Inspired from filmmaker Steven Soderbergh's classy heist flicks, the thematic instrumental titled Come fishing is a mix of cool, racy beats and smart alec exchanges between the lead protagonists of the movie.
Swank, eclectic and unusual -- three good enough reasons to pick up Bluffmaster! from the music store rack.