Home > Movies > Bollywood News

Amitabh Bachchan: Man On Fire

Aseem Chhabra in New York | November 11, 2005 20:17 IST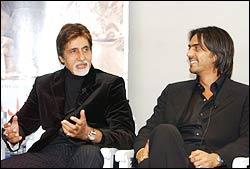 The small room in the basement at the Dream Hotel was packed with over hundred people for the press conference of Ek Ajnabee.
There were journalists from the Indian-American media, Bollywood fanatics, Indian-American filmmakers, other men, women and children who had turned up with their cameras just to catch a glimpse of Amitabh Bachchan, the lead player in the film, pictured here with Arjun Rampal (right).
People pushed and jostled for a view of the front of the room. Before the stars arrived, security personnel were called in to clear one of the two swinging doors leading into the room. In the process they pushed away several journalists, including rediff.com Deputy Chief Photographer Paresh Gandhi.
In the front of the room there was a set of four white chairs. Also in the middle was a bigger chair with brown leather upholstery.
| | |
| --- | --- |
| | More on rediff.com ! |
| | |
"Big chair for the Big B," several people in the room commented.

When Bachchan arrived -- 40 minutes late from the scheduled time of 8 pm -- people accompanying him, including the film's producer Bunty Walia, and co-stars Arjun Rampal and Vikram Chatwal, who is also the proprietor of the hotel, insisted that the veteran actor should sit on the big chair. But Bachchan placed himself on one of the white chairs.

"No, I am not going to sit there," Bachchan was heard saying to his entourage. "Take it away. Remove it."

The chair was moved. Later Ek Ajnabee director Apoorva Lakhia (Mumbai Se Aaya Mera Dost) placed himself on the chair befitting royalty.

The event started with a bunch of slickly edited previews and music videos of Ek Ajnabee.

Inspired by the current crop of Hong Kong films, the previews mostly featured a very cool looking Bachchan walking, driving and in action sequences on the streets of Bangkok. Adoring fans in the room cheered when Bachchan first appeared on the screen. And at the end of the first preview, a woman yelled out, "He's done it again." This much was clear from the previews.

In the film, Bachchan is a bodyguard to a little girl, daughter of an NRI couple, played by Chatwal (minus his beard and turban) and Perizad Zorabian. The previews left no doubt that the film was another version of the Denzel Washington-Dakota Fanning-Radha Mitchell film Man on Fire.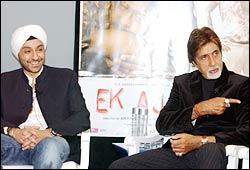 "People talk a lot about cross cultural films," Chatwal (left) said, introducing the film. "These films don't necessarily have to be like Monsoon Wedding or Bend It Like Beckham. This is not another Hindi film. This is not a remake of Man on Fire. If you see the way it is shot, edited and directed, it is setting new standards. Mr Bachchan is reinventing himself. So please don't turn this film into another Bollywood film."
Lakhia had no qualms admitting that his film was inspired by Man On Fire, which is based on a novel by the late British author A J Quinnell.
"Man On Fire has been made into four films in five different languages," the director said. "So this is the Indian version. It has all the necessarily ingredients required for a movie to come out of India."
Later Bachchan was questioned on his views on Bollywood films repeatedly lifting from Western movies. "It's not just that we adapt from Hollywood," he said. "It is the other way round too."
He pointed out that his 2002 film Aankhen will soon be made into a Hollywood movie and that The Magnificent Seven was an adaptation of Akira Kurosawa's classic Seven Samurai.
"The first thing you need to do is to give your own interpretation and Apu (Lakhia) insisted on that," Bachchan added. He did not mention that while there are plans to remake Aankhen in the US, it will be an Indian-American group backing the film. Hollywood is mostly unaware of films that come out of India.
Ek Ajnabee was shot in 35 days on location in Bangkok, Lakhia said. "Bunty and I selected Bangkok because we wanted our characters to stand out. When they are walking on the street they will look different. Both my heroes are over six feet and Thai men are not as tall. So it was really important to be in a place where they could stand out."
"I needed a place with a little bit of debauchery, little grey areas," Lakhia added talking about Bangkok as the location of the film. In addition, Thailand provides a fantastic infrastructure, with highly trained film crews, he said.
Lakhia wrote the script of Ek Ajnabee with Bachchan in his mind. "The most difficult part was going to him and asking him if he would be interested in doing the film. So when I first went to sir, in 15 minutes we got a yes, but it took two years to get the dates." "I wanted to thank sir for making it simple for me and for mostly making me do my work better. I woke up every morning, focused and I never wanted once for Mr Bachchan to question that I didn't know what I was doing. So it made me work that much harder."
Rampal talked about his first scene in the film where he had to look directly into Bachchan's eyes. "And I forgot what I was to say. Mr Bachchan was like, 'You have done a movie with me. Why are you nervous?'" Rampal then explained that in their first film together -- Aankhen, he wore dark glasses and spent most of his time not looking directly at the superstar. The people in the room laughed as Bachchan smiled looking uncomfortable.
The love fest with Bachchan continued with Lakhia referring to the superstar as "India's last cowboy" and the press and the fans cheered with approval.
Not one person in the room referred to Bachchan by his first name. People either called him sir or Mr Bachchan. A female radio reporter offered to be Bachchan's leading lady, when he said that no one wants to cast a 63-year-old actor with an actress. "See you after this," Bachchan joked as the giddy reporter laughed with excitement.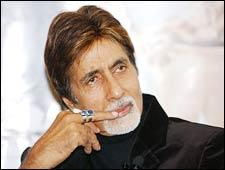 But when another reporter asked the actor to comment on a question from the point of view of a living legend, Bachchan seemed to have had enough.
"Why do you ask 'from the point of view of a living legend?'" Bachchan asked.
"Because you are a living legend," the reporter responded, repeating himself a couple of times.
"What's that got to with the role I play?" Bachchan retorted, sounding annoyed.
The reporter mumbled a few words, but Bachchan cut him off.
"Anyway, we don't believe in all these lovely epithets that you create for us. Thank you so much."
Photographs: Paresh Gandhi


What do you think about the story?








Read what others have to say:





Number of User Comments: 9








Sub: wow ! i want to see it now!!!!!!!!!!!!!!!!!1

i have seen the promos of this movie < its very sleeky & donot get bored to watch it numerous times


Posted by amul timble









Sub: Don remaking

HI It's a very very POOR JOKE shah rukh to be in place of THE one and only AB.The way he said "Don ko pakadna....namumkin ...


Posted by Sanjita









Sub: Amitji You are The BEST

Dear Amitji It is true that you are the living legend , THE BEST and only person with such a great personality. till date I ...


Posted by june









Sub: comment on Ek Ajnabee

i have seen the promo Ek Ajnabeeo Mr.Bachchan is looking extremly wonderful on screen.I hope mr.bachchan would have heroic style entry in Film.In recent movie ...


Posted by Rajesh.V.Trivedi









Sub: heloo amitabh bachanjee

hi this is gurpreet here i like yu very much and i like yur every movie and yu one of my favourate kaun banega karorepati ...


Posted by GURPREET






Disclaimer