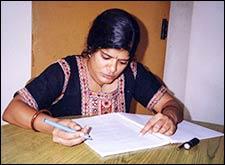 R
oopa Swaminathan
, author of the National Award-winning book,
Star Dust, Vignettes from the fringes of the Film Industry
, calls herself a hardcore Mumbaiite who loves cinema and grew up watching Hindi films.
She is currently in the US, trying to mobilise funding for her second film. Her first, in English, was produced by the National Film Development Corporation and is yet to hit theatres. Excerpts from a conversation with Shobha Warrier...
So where did this interest in film come from?
As I grew up, I always knew I would make films. But, considering I think and write in English, I wanted to make films in English. I was in the US for a bit – in Los Angeles, trying to get a first hand feel for Hollywood. I came back to India to get my visa renewed, and met Mani Ratnam casually. He asked me to stay back and work with him. I did that for a year. I then applied for funding to NFDC, and got it approved. My first English feature film, Five By Four, has been to many festivals like Shanghai, AFM in Los Angeles, and Ashdod in Jerusalem, but still awaits a theatrical release.
In the meantime, I won a fiction-writing contest for Oxford Bookstore. Penguin got my name from the contest and commissioned me to write Star Dust. I have also penned three coffee table biographies for Rupa Publications, on MGR, Sivaji Ganeshan and Kamal Haasan. But my goal, in terms of biography, is to write one on Rajnikant. Not a coffee table book, but a full-length biography. He is truly my Thalaivar! (leader). If he ever decides to go for it, I hope he'd let me do it. I am intensely fascinated by his life story!
| | |
| --- | --- |
| | More on rediff.com ! |
| | |
What is it about him that fascinates you?
I saw Thalapati and fell for the Rajnikant magnetism. It has stayed ever since. I just love his movies. They remind me of Manmohan Desai's films in Hindi. Desai was unapologetic about making films that threw logic to the winds and simply entertained. Rajni's films feel the same to me. It's difficult to explain that X-factor that makes his movies so special.
My friends from Mumbai cannot understand how someone like me who wants to make films in Hollywood and has grown up watching Hindi cinema can like Rajni so much. I suppose that is the magic of cinema! In terms of writing his biography, I think the journey he made from a bus conductor to becoming the most powerful man in Tamil Nadu is fascinating to me. I have always dreamt big -- not that I have achieved any of it, of course -- like winning an Oscar some day, working in the White House, etc. It's a huge reinforcement of what a human being can achieve when someone like Rajni made it this big from such a humble background. In that sense, it is highly inspiring. Another positive in his favour is he seems incredibly humble. I would love to get inside his head and find out what makes him tick!
Was it your idea, or that of the publisher, to stress the outsider/insider syndrome that exists in the film industry?
Penguin wanted me to suggest a few subjects on the film industry I could write about. This was one of them, and they jumped at it. For once, we were looking at the possibility of exploring a book that did not deal with the superstars, but was about regular people dreaming about making it big.
You have used the style of fiction, but the characters are so real and rooted to life. How difficult was it for you to make them look real?
Making them real was the easy part. It could be nothing but real because their stories are such that, even if I wanted to make them up, I couldn't. It was getting them to open up and be honest about their feelings and lives that was hard. Once they did that, I chose a style of writing that suited a book like this. I didn't want it to be boring non-fiction about the tragic lives of strugglers. I wanted the style to be fast and pacy, like a Grisham novel. I wanted that perfect combination of 'meaningful cinema' in a 'commercial format' -- real stories in a fiction-like format.
Extras, dancers, production assistants... they are never given any importance by the industry. Why did you decide to concentrate on their lives? To highlight the injustice meted out to them?
Honest to God, it wasn't any attempt on my part to highlight injustice. But after working in film units and making my own film, I realised that talking to stars was pretty boring. I was genuinely amazed at the passion and interest these so-called 'outsiders' showed, and when you contrast that to the take-it-for-granted attitude some stars have, I knew theirs was a story waiting to be told.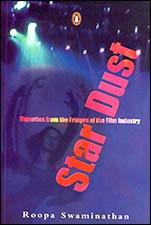 Though you tried to give colour to the colourless lives of outsiders, I felt a kind of pathos running through the book. Did you really feel bad for them?
You are on target with this question. And you are the first person to sense this pathos. Again, it wasn't intentional. I think there is a sense of pathos that runs through the entire film business. Why just my book? I've seen a certain amount of sadness in just about every film person I have met. Sadness caused by no success, and by too much success.
Stars are obsessed about earning more money and driving a car that's better than their rival's, and in this quest they are truly alone. They have no clue who their real friends are. It's actually a very sad and insecure world. And the same goes for those who are not successes, because they are constantly pushing themselves to get to where the stars are. So basically, there's a lot of sadness and I think the book reflects that.
Why did you decide to concentrate on the Tamil film industry?
For a couple of reasons. One, I genuinely found more interesting people in Tamil cinema. They are altogether smarter and more passionate than those from Hindi cinema. Tamil cinema is a lot about wanting money, fame etc, but it's also about making different kinds of cinema. Technicians are constantly pushing themselves to become bigger and better. Secondly, I wanted to highlight the fact that Bollywood is not representative of Indian cinema. There's more to Indian cinema than that.
You met hundreds of people to write the book. Did you develop friendships as a result?
Not really. I mean, a few fans of Ajith still hound me when I walk past them in Mambalam. I am in touch with many of the assistants profiled in the book. Film director Dharani and I became extremely close during the writing of the book, which was a bit of a surprise since the film industry is not a place where you can develop friendships.
In the book, there is a lady called Sulekha who believes she will be reborn as Rekha. In real life, did you find her interesting or, as she says, 'paagal' (mad)?
Sulekha was my moment of truth, my sense of true pride. I love her and am proud of her, and I am equally proud of myself for finding her! I think she is one of the most interesting human beings I've ever met. She is definitely paagal, but is also very smart and human. And as I told her, I too believe I'll be reincarnated. I just don't have her conviction in that I don't know what or who I will come back as. Always the smart mouth, she responded to that by saying, 'In that case, you are half paagal!'
One of the most interesting portrayals in your book was of Roja Patti (Veteran actress SM Lakshmi). When she stood there for money after the interview was over, were you shocked?
Yes, I was stunned. In fact, I am reasonably sure I had my mouth open when she stood there waiting for the money. I realised much later that giving money is a kind of cinemaic protocol and, if you are part of the inner world, you would just know. Then I didn't, now I do!
There are many actors who are outsiders but became extremely successful in the film industry. Why did you decide to have Vikram's story in the book? Was it because of his long struggle to finally be an insider?
Vikram was another dear friend I made during the book. I wrote about him for many selfish reasons. When the book was mooted (in 2003), Vikram was only just beginning to make it huge. I had spent all of the year before (2002) trying to tell people what an amazing actor he was, and everyone looked at me as if I were mad.
I am from Mumbai. I had never heard of Kenny (Vikram) until I saw a half hour of Sethu on Sun TV and was blown away. To me, he was a brand new actor, but, to those in Chennai, he was a 15-year struggler who finally had that one hit. While I was eager to find out about his next films, those around me couldn't let go of his past. So, when my book was approved by Penguin and I knew I would have a chapter profiling a mega success story, I could think of doing it on no one else.
Imagine my incredible surprise and good luck that he went on to become one of the biggest stars in Tamil cinema and win the National Award in 2003! That was the icing on the cake! And Penguin was finally convinced about my choice!
How did you take the news of winning the National Award?
I was, of course, thrilled and excited and all that. But not to be arrogant or anything, I felt I got exactly what I deserved. Especially given the background before the award. The book came out in December 2004, and the entire Hindi film industry ignored it. It was as if, if you don't write about Bollywood, they won't even acknowledge it. That if it wasn't written by some director's wife, the material is not worth looking at.
That bugged me so much. Also, my being a first time writer, the publisher could justifiably not spend much promoting the book. And given that my movie is stuck with NFDC without a release, I thought the book would go the same way. So getting the award was a reaffirmation of my faith in myself. I never had a problem believing I was good. It was getting others to believe that was a problem. The award made that happen.
I have to tell you about this incident too. Last year, Kenny won the National Award for Best Actor. So I called and wished him. The next call I made was to Dharani, telling him he has to win Best Director next year. Considering I won this year, only Dharani is left to make a complete National Awardee trio!
You are writing another film-based book for Penguin. Can you shed some light on the project?
My next book will trace the history of Tamil cinema from the 30s until now. But it's not an encyclopaedic look. I want to trace the different stages as seen through some legends of Tamil cinema: to look at the 50s and 60s through the meteoric rise of Sivaji and MGR; at the 70s by examining the contribution of K Balachander, and so on. I am really excited about it.
The film you made is yet to have a theatrical release.. Are you not frustrated about that?
Frustrated is too soft a word to describe what I feel about my movie. Of course, making a film for NFDC, one is mentally prepared for such a situation. It's just that when it happens, you are actually not nearly as prepared as you think. I am still incredibly happy that I got the opportunity to make it, and make it my way without interference.
The actual experience was amazing. I think what bothered me more was that I got so many offers to make my second film while making Five By Four. Unfortunately, none of the offers materialised because the first film never got a theatrical release. Apparently, the struggle doesn't end even after you make that first movie. It continues!
How different are Roopa the writer and Roopa the filmmaker? Which role do you enjoy more?
I think the role of being a filmmaker is, by definition, different from than that of a writer. As a writer, it's a very isolated, even a lonely world. Your computer is your best friend. But a filmmaker has to be a very social person. You have to interact with all kinds of people. From stars to spotboys, you have to cajole, order and take care of all of them. You have to be a leader and a manager. You need to be strong enough to get the work done, but cannot antagonise anyone. It's a tricky job.
I love being a writer and filmmaker. I really do. But I think that while I love the writing and really enjoy all the success I have had with it, I honestly yearn to be a filmmaker. I firmly believe I was born to make films. And having directed that first film, I've tasted blood and want more.