Home > Movies > Reviews

Sivakasi: for Vijay fans only

Shobha Warrier | November 08, 2005 15:50 IST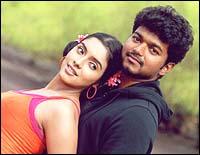 The Tamil Diwali release Sivakasi is like a pack of assorted crackers, with almost all the varieties made in the famed Sivakasi town of Tamil Nadu. It has sparklers, flower pots, 'atom' bombs, Lakshmi vedis… every cracker available in the market, and all of them used well.
Perarasu, the director of Sivakasi told rediff.com that Sivakasi is not a typical Vijay film, but the truth is that it is a typical Vijay film with all the ingredients in it, in the right proportions to satisfy all his fans.
Like all his recent films Vijay plays a hero who growls and fights like a tiger, dances like a dream, is adept at tickling the funny bone, sheds tears for his mother and sister -- all in great style. What more do his fans need?
Is the story of Sivakasi any different from Perarasu's own Thirupachi or any other Vijay film? The answer is no. The film which starts in Chennai moves to the village in the second half where Sivakasi (that's Vijay's name in the film) goes to save his mother (Geetha) and sister from his elder brother (Prakash Raj) who is evil incarnate. There are several songs with his lady love (Asin) and a number of fights with the baddies.
Like Perarasu said in his interview, in a nutshell, Sivakasi is about how a bad son treats (ill-treats) his mother when she is old, and how another son cares for her and saves her.
Vijay has excelled in all departments. Asin, who got a lot of applause in Ghajini, does not have much to do in Sivakasi. But Nayanthara, who drew a lot of flak for her item number in Ghajini, is the actress who is getting all the whistles and claps in Sivakasi for her latest. She just sizzles in the song! If Asin scored over her in Ghajini, it is Nayanthara who gets even with Sivakasi.
Yes, Sivakasi is made strictly for Vijay fans. The fact is, nobody associated with the film, the producer or the director or Vijay himself, proclaims this film to be 'different' or 'pathbreaking'. They have made the film to cater to a particular audience, those who have made Vijay's earlier films like Gilli, Madurai, Thirupachi, etc huge successes, and the same audience will make Sivakasi another blockbuster.
The fantastic opening the film had all over Tamil Nadu is proof of that.
Want to see this movie? Check out Rediff Movie Tickets!


What do you think about the story?








Read what others have to say:





Number of User Comments: 11








Sub: super

really the film is very superb.please watch it in DTS theatre only


Posted by selvi









Sub: Pls Watch this movie only in....

Pls Watch this movie only in vcd and save your money i wasted an 150/- watching the dump movie


Posted by praveen









Sub: wasting money since .........

hi, im fed up watching vijay's movie after gilli,if any one asked to see all his movies at an same time no one can give ...


Posted by ramanan









Sub: sivakasi a crap

i dont know what the hell these movies are. please dont direct these kinds of movies. same crap stories. iam sorry for tamil people.


Posted by Vijay









Sub: vijay please spare us!!! stop acting in films

hello viewers im so disgusted at the way vijay is selecting films nowadays...i just wish he goes away from the industry so that other good ...


Posted by visika






Disclaimer