Advertisement
November 07, 2005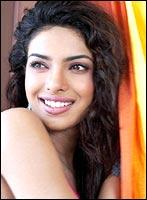 Loneliness is killing Priyanka Chopra [Images].
"I have a hundred million acquaintances in Bollywood, but there isn't a single friend I can call in the middle of the night from my bed and bare my heart," laments the beauty queen-turned Bollywood star.

Priyanka is speaking from her hotel suite in Boston, a city she had much of her high school education in, and where her father Ashok Chopra is being treated for a tumor in his liver.
In between talking about her new films, including Bluff Master [Images] with Abhishek Bachchan to be released next month, the former Miss World talks about her worst fear. "It seems to be the higher you get in this profession, the more success you get, the lonelier you are," says Priyanka, slated for half a dozen A-list films.
Her upcoming roster includes Rakesh Roshan's Krrish [Images] opposite Hrithik Roshan [Images]; Farhan Akhtar's Don remake with Shah Rukh Khan [Images] and Akshay Kumar [Images]; and Nikhil Advani's next film, currently untitled. Then there's Farah Khan's [Images] Happy New Year, with Shah Rukh and Amitabh Bachchan [Images].

"I have been around for about three years, and these incredible things are happening," she says, quickly adding that she's never worried about her career.


| | |
| --- | --- |
| | More on rediff.com ! |
| | |
"I am afraid of loneliness, and being without a friend," says Priyanka who has been linked to a number of Bollywood men, including her frequent co-star, Akshay Kumar. "I am afraid of dying without any of my friends around. I don't want that to happen."

In Boston, her mother Madhu Chopra -- who, like her husband, is a physician --  has several family members helping her deal with her husband's treatment. "The family is a great comfort and resource," says Priyanka, mentioning that she has always felt very much at home in Boston.

"I come here almost every year, and my best friends are in this city," she says. "I am going through a very difficult period in my life right now. But for my relatives and friends here, it would not have been easy to cope."

Her father had been taken ill in Mumbai several weeks ago. Priyanka says she has been lucky with all her directors. "Humbly, each film I have done is a milestone in my career". Particularly working with directors such as Rakesh Roshan and Rohan Sippy (Bluff Master) helped her ease her pain.

"Rohan has made an intriguing, funny and romantic film with a lot of life lessons," she says of Bluff Master. "It is quite sophisticated and contemporary. I think it should appeal particularly to the overseas audiences." She plays a strong woman whose integrity and openness bothers her boyfriend, a professional conman (Abhishek ).

"There is magnetism in my character," she continues. "She is angelic, she has integrity, and she cannot be bought over."

The movie could make her known more widely with audiences in America, Canada [Images] and Britain, she says. For one thing, she does not have to share the limelight with other actresses, as has happened in the case of films like Andaaz, which also featured Lara Dutta [Images], and Aitraaz, where Kareena Kapoor [Images] starred alongside her.

"But please see it in the theatres, first," she adds. "See all our films in the big theatres. Good films such as Bluff Master, in particular, deserve to be seen on the big screen.".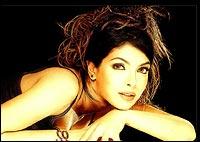 "If you want better quality films made in India," she emphasises, "support only the legitimate business, even while buying the video and DVD."

Even as she talks about her films with enthusiasm, Priyanka turns back to her personal life. Her father's illness has made her realise, more than ever, the importance of a beautiful inner life, she says.

"I go to temples and pay my respect to the gods," she continues. "But I also strive to keep my body and my mind pure. I am believing more and more that a person's body is a temple, its purity, and it is where god resides, and hence, should not be violated."

Many of her school friends in Boston are studying in universities. Does Priyanka, who had once thought of being psychologist, regret not having gone to college?

"I was 17 when I became Miss World," she says. "Things began changing so fast thereafter, that I had no time to think if I should somehow continue my studies.

"But I would not want to change anything in my life. I have been very lucky and let me be grateful to god for that."