Home > Movies > First Look

Indian Idol 2 is ready to roll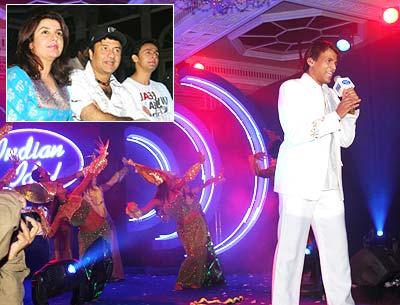 Sony Entertainment Television is back with the sequel to its super-successful talent hunt show.
Indian Idol 2 is all set to kick-off on November 21, to be telecast at 8:30 pm on Mondays and Tuesdays.
As with the first season, Mini Mathur and Aman Verma will be the hosts, and the returning panel of judges comprises Anu Malik, Sonu Nigam and Farah Khan (left, inset).
Over a million participants registered from across the country, and 30,000 made it to the national auditions, held at Mumbai, Delhi, Kolkata and Lucknow.
After the auditions, only 172 have made it to the shortlist, and headed to Mumbai for the next round, to begin on Tuesday, November 8.
"There is a lot of talent in India. And to go through all of them was a difficult task and I was very blunt while selecting the candidates," Malik said on the auditioning experience. "Therefore few people also reacted very badly and some of them refused to leave. But for me, either the participant is good or bad."
When Sonu Nigam was asked how he feels with so many talented singers entering the field, he said he is very nervous, but he takes it positively and does more of preparation and riyaaz.
He also added that the turnout of talent was better this year. He was disappointed with Mumbai, but says the response from Delhi and Kolkata was better. He was pleasantly surprised by Lucknow, because it brought forward a large number of very talented female participants. "I personally felt that, last time, girls didn't participate much because they were not aware how serious this contest was," he said.
Sonu summed up the cities thus: "Mumbai was careless. Lucknow was a new venue. Kolkata was full of emotion: those who lost cried, but even those who were taken in cried out of joy. And Delhi was full of josh!"
Farah Khan talked about how a lot of contestants gave away their jobs and studies just to participate in Indian Idol. One contestant ran away from Kashmir to participate in Fame Gurukul, and has not returned home since -- his frantic mother is still searching.  
Performing on the occasion, Indian Idol winner Abhijeet Sawant said, "I had never dreamt of being so famous, but Indian Idol changed my life totally. I was not sure if I could be a singer, but today I am an established singer."
He wished the Indian Idol 2 contestants all the best, and sang an interesting variety of songs: Chand taare from Yes Boss, Main hoon Jhumroo from Jhumroo, Kiska hai ye tumko intezaar from Main Hoon Na, Hai agar dushman from Hum Kisi Se Kum Nahin, Woh Sikandar hi doston from Jo Jeeta Wohi Sikander and his original 'theme' songs, Pal and Mohabbatein Lutaunga.
The Indian Idol 2 will get a Rs 10 million contract with Sony Entertainment, and a recording deal with Sony BMG.
Text: Patcy N | Photographs: Jewella C Miranda


What do you think about the story?








Read what others have to say:





Number of User Comments: 35








Sub: send me a big alert pleeease

i cordially requests to Rediffmail.com to inform me about any reality show of singing contests, like Indian idol. wheather it is running currently or going ...


Posted by Chandrabhan Pradhan









Sub: judge's comment

i think the judges are very fair with the contestents but the audience is not .


Posted by sudipto









Sub: voteout

janta is really unfair with all the good contestents.


Posted by sudipto









Sub: not send monali out

pls take it in monali


Posted by kashif









Sub: congrutulations

i am a Pakistani girl.this is the first time watching indion idol.its wonderful.A big success of Sony.i like Farah khan.anu g and sonu nigam as ...


Posted by saman






Disclaimer