Advertisement
November 02, 2005 17:15 IST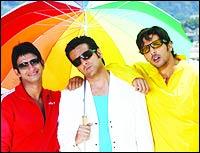 The latest from David Dhawan, Shaadi No 1, involves the lives of three young couples -- Raj (Fardeen Khan [Images]) and Bhawna (Ayesha Takia [Images]), Aryan (Sharman Joshi) and Sonia (Soha Ali Khan [Images]), Veer (Zayed Khan [Images]) and Diya (Esha Deol [Images]).
Life's not easy for the men, as religion and demanding careers conspire to keep their wives from paying them much attention. They don't have jobs either, which makes things worse. Even as they attempt (and fail) to kill themselves, they come across a suicidal businessman called Kothari (Satish Shah) who needs rescuing. He employs them, they resolve his business hassles, and he tells them about his other nagging problem: three young daughters -- Madhuri (Riya Sen [Images]), Rekha [Images] (Aarti Chhabria [Images]) and Dimple (Sophiya Chaudhary) -- who now live abroad and refuse to accept the idea of arranged marriages.
Special: At the movies, this Diwali
Kothari wants the boys to help by wooing his daughters and then dumping them, in order to prove how fickle love affairs can be. The guys agree, rush off abroad, woo the girls, and then promptly fall in love with them. Now, the girls have followed them back to India, and the men must learn to juggle their time with their wives.
To make things worse, the wives have found a long-lost relation -- Lucky bhaiya (Sanjay Dutt [Images]), aka Lakhwinder Singh -- who plays the mandolin, seems to know exactly what's going on and has a storehouse of morals and advice for every occasion. Sort of like a soothsayer, but more heavily built.
Things get complicated. Kothari wants the boys to stop dating his daughters, but they are enjoying themselves too much to care. Lucky tries warning their wives, but they refuse to believe him. Raj, Aryan and Veer are worried about Lucky, so they think of bumping him off. In the meanwhile, the wives and girlfriends have met and become friends, completely ignorant of the fact that they are sharing their lives with the same men. There's more chaos and confusion, but you have to watch the film to find out how Dhawan manages a strange, surprising solution.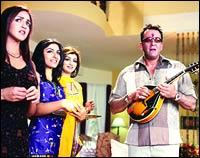 There's a lot of music and dance, of course, but Anu Malik [Images] needs to work a little harder. Of the six tracks, Dil nahi toda karte is the only one that's hummable. Others, like Chand ko tod doonga and God promise dil dola, aren't that hot. Surprisingly, it is guest composers Aqueel and Sanjeev who score a potential hit in Aiyashi aiyashi. Also, I must confess, the only track I had a problem understanding was the one that went Hello Adam, Hello Adam, I am your madam...
A number of good supporting actors, including Rajpal Yadav, add colour, while each heroine has a little character trait that's appealing. Dhawan's direction is tight, which isn't difficult to swallow considering it's his fifth movie with producer Vashu Bhagnani after Bade Miyan Chote Miyan, Biwi No 1, Coolie No 1 and Hero No 1.
There are some good performances, including those put in by Esha Deol, Sanjay Dutt and Riya Sen. Sharman Joshi stands out. Still, all said and done, it's a good effort on the part of all concerned, and they dance their hearts out at every turn, both before and after the interval. As a Diwali release, Dhawan couldn't have timed it better. There's laughter, madness, and a lot of celebration, making this a good option for a boring afternoon or a late night.
Eventually, what makes Shaadi No 1 interesting is the fact that it epitomises what Bollywood has always been: A celebration of illiteracy, with bright lights and an orchestra.