Home > Movies > Reviews

Will Salman save Kyon Ki?

Patcy N | November 02, 2005 18:40 IST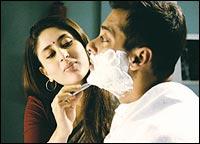 I loved Priyadarshan's Malayalam film, Thalavattam. It was tragic, and depressed me, but I loved it. In a recent interview with rediff.com, the director told me that Salman Khan was brilliant in the Hindi remake, Kyon Ki. In fact, according to Priyan, he was better than the original hero Mohanlal in certain scenes. Naturally, when I went to watch Kyon Ki, I was curious about whether it did justice to the original.
Special: At the movies, this Diwali
Kyon Ki begins with Anand (Khan) being admitted to a mental asylum. Dr Sunil (Jackie Shroff) is in charge of his case. Sunil learns from Anand's diary that he had loved a girl called Maya (Rimii Sen), who died. Since then, Anand had lost his mental balance.
Dr Tanvi (Kareena Kapoor) does not like Anand at first, but gradually falls in love. She learns of his sad past and decides to help him out. When he is cured, he returns her love. But Tanvi is already engaged and her father Dr Khurana (who also owns the hospital, played by Om Puri) does not want Tanvi and Anand to marry.
Priyadarshan had said that if one didn't like Salman in the film, he was to be blamed, not Salman. So my question goes to the director. What did you do to the script? None of the characters enjoy any sympathy from the audience.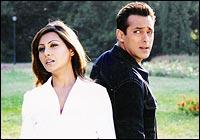 People who have not seen the original may appreciate it. But Salman's comic sequences are not as good as they were in No Entry or his other recent comedies. 
In Kyon Ki, Salman is just about bearable. He was good in Tere Naam, but that quality did not come across here. He is probably one of the most inconsistant actors in the industry today. Only one thing remains -- he still looks stunning.
The heroines, Kareena and Rimii, have little to do, but they excel, especially Rimii. Om Puri's performance is lame. Jackie Shroff, who was so good in the recent Antarmahal, is just about average and even loud at times. The romance between Salman and Kareena seems unconvincing. One does not even realise when the two actually fall in love.
There are too many songs in the movie, and the pace is much too slow. In the original, the flashback is told in a single song. In Kyon Ki, it drags on unendingly.
Whatever my reservations against the film though, Kyon Ki may just go on to become a hit. After all, you can always count on Salman's winning streak at the box office to save it.
Want to see this movie? Check out Rediff Movie Tickets!


What do you think about the story?








Read what others have to say:





Number of User Comments: 65








Sub: Yea... man....

Hello, He's great 'coz he's been exploited by Priyadarshan, none of the other directors could do this.. Bansali,Adoor are the exceptions.. Just take a look ...


Posted by Jana Yedar









Sub: Kyun ki- copy of One Flew Over the Cuckoo's Nest

"KYUN KI" is the copy of the film "One Flew Over the Cuckoo's Nest"-1975 (5 Oscar winning,including best actor, Jack Nicholson). Priyadarshan is famous for ...


Posted by Lee









Sub: KYON KI IS THE BEST MOVIE.

Big cheers to salu bhai for excellent acting. He is the best and always the most best looking. I find the movie very exciting and ...


Posted by moammer









Sub: Salman was great in this movie

Well i dont know what cinamtic judgement the reviuewer posses...Both Salman and the movie is good and it is worth watching once....Infact many times better ...


Posted by Gaurav Kumar









Sub: salu u r gr8!!!!!!

i disagree with the ones who says that it was not a good movie.the one who thinks this,actually doesn't know ,"WHAT A MOVIE IS!!!!" salu ...


Posted by shrujal






Disclaimer