Home > Movies > Interviews

The Rediff Interview / Aziz Mirza

Aziz Mirza: Shah Rukh is a natural

Syed Firdaus Ashraf | November 02, 2005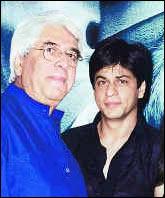 Director Aziz Mirza was one of the first to befriend Shah Rukh Khan when he came to Mumbai in the early 90s. He gave him a break in his serial Circus, shot in 1990, and the duo later worked together in Raju Ban Gaya Gentleman with Juhi Chawla as the lead actress. The last film they did together was Chalte Chalte, which was a big hit.
In an interview with Syed Firdaus Ashraf, Mirza recalls those early days. Excerpts:
What makes Shah Rukh Khan so special?
Shah Rukh is a blessed child, but he has never taken anything for granted. He still works as hard, if not harder, than before. He is aware as a person and human being. His humility is his biggest asset.
When did you first meet him?
It was in 1990. I had heard of this boy in the serial Fauji who was supposed to be good. We called him to Mumbai for a serial. He arrived, politely sat in the office and then came up to me and asked if he could make a call. He reminded me of my son, Haroon. There was a connection instantly. I am a man of instincts and I sensed something about him from our first meeting.
Going by his looks, did you feel he had the potential to become a hero?
Shah Rukh himself always knew he would ride on talent more than anything else. I think he looks better now than he did then. At that time, there was a rawness in him that made him a natural. He always had crowd appeal, even when he was just with friends.
Did he ever say he wanted to become a superstar?
His mother asked me if he would be a superstar. I told her I didn't know, but since he was talented he would always be a loved actor. I think it's her prayers that have made him a superstar.
Was he modest?
He still is modest. I don't think he still understands why people like him.
Did you ever differ with him on his acting skills in the beginning?
As I said, Shah Rukh is a natural. In our films together, we have such a relationship that he knows what I like and what the shot requires. When I tell him to try a shot in a different way, he knows what I want and delivers.
Did you ever believe he would make it so big?
I believed because he believed. I believe he will get bigger because he believes it.
Is it true that he stayed with you in Mumbai?
Yes, but that is not important now.
How has Shah Rukh evolved as an actor, in your opinion?
With age, he is becoming wiser, more compassionate and understanding. This shows in his acting.
What makes him such a down to earth person?
I think it is his upbringing, his values and his struggle. He has not forgotten those days.


What do you think about the story?








Read what others have to say:





Number of User Comments: 4








Sub: Shah rukh khan

I think you have written enough praising about shahrukh khan. As if there are no other actors and there is only him.


Posted by Biju









Sub: srk

hey guys, come one enf of srk, he is not god, he is jst another human being, enf with the hype now...let him b ..and ...


Posted by smiles









Sub: SRK--A NATURAL?

If all actors who look good and who have managed to rake in millions at the box office is the only criteria for judging their ...


Posted by jeejaprakash









Sub: King Size Pride

I hope he sneezes a lot , as people give him money even when he sneezes.


Posted by ispita






Disclaimer