Advertisement
May 31, 2005 12:11 IST
Last Updated: May 31, 2005 12:17 IST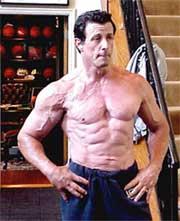 Just when you thought the Vietnam veteran had passed quietly into the shade, he's back!
Nu Image/Millenium Films have acquired the film rights to the Rambo film franchise from Miramax/Dimension Films.
The shooting for Rambo IV, also titled Holy Wars, is scheduled to begin in Sofia, Bulgaria, in January 2006.
Filming also scheduled in the US and -- you better believe it -- India!
The announcements are going to be big in this piece, so read on, and keep your eyes peeled.
Sylvester Stallone [Images], unsurprisingly, will return to his iconic action role. This time, the proposed script he's adapted for the film sees him as a family man.
Stallone has reportedly said John Rambo has been 'assimilated into the tapestry of America', and is living in peace, working with the UN. Work pressures force him and his family to the American outback, where the former Green Beret's family comes under an onslaught by white supremacists. Rambo dons typically lethal vengeance gear to rescue his 10-year-old daughter from a hostage situation.
However, an early draft of Holy Wars, freely viewable online, revolves around a different race-situation, one which Stallone has been alluding to ever since 9/11 happened.
John Rambo, a committed family man, is an environmentalist working at the UN headquarters in New York. Suddenly, the UN HQ is besieged by Islamic terrorists. The sadistic fundamentalists are holding the world to ransom. There isn't a better man to go after the bad guys than Rambo, but the tale sees a twist because he knows his Afghani-adopted son is part of the terrorist squad.
Nu Image/Millenium Films took over the Rambo franchise entirely only very recently, after Harvey and Bob Weinstein left Miramax, also quitting their stake in the co-production deal on the Sylvester Stallone series. The series was bought by Miramax's Dimension Films in 1997, as Rambo's originating film company, Carolco, was going bankrupt.
Nu Image/Millenium Films have long been touting Holy Wars as a project with an extreme international scale, and their early draft, with an acknowledged nod of the head to Vidhu Vinod Chopra's Mission Kashmir [Images], throws up a lot of Bollywood masala, including the biggest names in the business.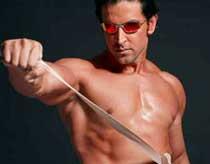 The role of UN Secretary General Amit Talian, in the Holy War draft, was written especially for Amitabh Bachchan [Images]! As Stallone, 59, continues flexing steely muscles, it's only fitting that his new boss -- after Richard Crenna, who played Colonel Trautman, his original mentor, passed away in 2003 -- be someone who embodies the never-say-die spirit as heartily as the Italian-American superstar himself.
But the best is yet to come.
Rambo's Afghani-American stepson (or his Afghani-adopted son, going by the draft we read) is slated to be played by -- hold your breath -- Hrithik Roshan [Images]!
The treatment note describes the character as similar to Altaf in Mission Kashmir, and calls him 'in many ways, the Rambo for the twenty-first century.'
Talking about Hrithik, it mentions a resemblance between him and Stallone himself, and talks about how the young Indian stud currently has all the staying power needed to make the first truly big crossover Indian-American film.
Taking things into perspective, it's important to remember than nothing has been signed yet -- there have been no official announcements regarding the cast of the film, with the obvious exception of the inevitable leading man, Sly himself.
But the fact that the film will have a shooting schedule in India, and that Nu Image is currently scouting for Rambo IV locations in Mumbai and Nagpur, bodes well for these casting choices to actually come through.
The Nu Image press release gushes about Bachchan's recent appointment as the UNICEF Goodwill Ambassador, which just goes to show that the idea of his casting itself has not been dismissed.
Meanwhile, Hrithik Roshan might just have played his cards to awesome perfection.
Hrithik, conspicuously absent from the Bollywood rat race over recent months, and staying away from media glare might just do a Mallika Sherawat [Images] and make our eyes pop open in stunned surprise!
Only, this is much, much bigger. Every bicep-crafting boy in the world has, at some point of time, dreamt of being Rambo. Hrithik could live that dream, and give Indian films their most prominent showcase in Western cinema yet.