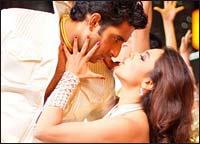 Jack and Jill went up the hill. And Hansel and Gretel threw breadcrumbs to find their way back home.
But the duo of Bunty and Babli never really read nursery rhymes or fairy tales. Nor did they care for boring academics or innocent adventures.
Their aim was to become famous, have fun and fool about -- as much as they could.
Making bakras of unsuspecting victims can be dangerous too. The sprightly duo is soon on the most-wanted list of the police, namely Dashrath Singh (Amitabh Bachchan [Images]). Deputy commissioner by designation, this eccentric cop will arrest B&B by hook or by crook.
| | |
| --- | --- |
| | More on rediff.com! |
| | |
Couple on the run? Hounding police officer? Boring, you say?
No chance. Bunty Aur Babli [Images] is wow all the way.
For one, there is nothing serious, realistic, logical, or remotely worldly about Bunty Aur Babli. An out and out entertainer, the film leads the viewer into the unusually reckless life of Bunty and Babli. There is no place for dull moments whatsoever.
Lets begin with Mr B. The name is Bunty. Actually, it's a pseudonym for Rakesh Trivedi (Abhishek Bachchan [Images]). A tall dude in his twenties, Bunty is a top-class swindler by choice.
True to his hero, Shekchilli, you can count on Bunty to come up with silly schemes that dream of raking big money, any hour of the day. Unlike his ticket collector daddy (Raj Babbar), this resident of Fursatganj (is director Shaad Ali Sahgal an Asterix fan?) vehemently refuses to endorse and succumb to working nine to five. He leaves home to pursue full-time conning. 
Behind every Mr Incredible is a Elastigirl. So we have Bunty's partner-in-con and better half -- Babli aka Vimmi (Rani Mukerji [Images]). A runaway like Bunty, Babli aspires to be Miss India but chucks her dreams of wearing the crown to become a rocking con artist.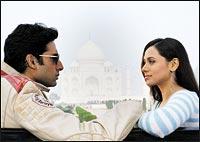 But you need to know that the lady is obsessed with vanity. The Sikhni spends hours gazing at her heart-shaped red and gold mirror. Her parents (Puneet Isaar and Kiran Joneja Sippy) have other plans though. They want their daughter to perfect the art of making pinnis (Laddus) and tie the knot. Babli runs away.
B&B find small-town mentality suffocating and have starry-eyed illusions about Mumbai. Mission Mumbai never really takes off. The two, however, agree on point -- conning challenges them and gives them an indescribable high.
Their antics earn the duo the status of mini celebrities in local newspapers. Lucknow, Kanpur, Agra [Images], Bareilly, Varanasi, Delhi, Musoorie, you name it, the flamboyant couple loot all and sundry. From parading as food inspectors to hoax sadhus to playing potential hotel buyers, B&B loot malls, restaurants, hotels and banks.
Some of the cons are predictable but most are refreshingly original and rollickingly presented.
The coolest conspiracy involves Babli dancing with an auburn-wigged investor to Ramba ho while Bunty sweeps the cash. The entire sequence is sidesplitting. 
Another highly amusing fraud B&B must be patted on the back for is when they give the Taj Mahal [Images] on lease to a bald American and his tanned wife for five years.
Aditya Chopra's [Images] story slices a bit of Bonnie And Clyde and a lot of Catch Me If You Can, soaks it in Indian essence and dishes out a delicious dessert. The appeal is very earthy -- be it in terms of language, clothing or sets. Plus, the theme of desiring big and wanting fun is relevant to today's youth everywhere.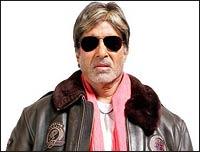 Another noticeable feature is that a lot of attention is paid on detailing and structuring the two lead protagonists' character sketches. Besides their onscreen tricks, the viewer immediately notices the appearance of the actors.
Bunty wears white tees under flashy half-sleeved unbuttoned shirts. A showy metallic calculator watch sits atop a vibrant wristband. Babli's wardrobe comprises bright-coloured, heavily sequined, collared, short Haryanvi kurtas and salwars. And she carries a red, embroidered sack around her neck.
The screen is flushed with brilliant colours and a rustic flavour is maintained even during slick dance numbers. The rawness of which can be seen in the item song, Kajrare naina featuring Aishwarya Rai [Images] along with Amitabh and Abhishek Bachchan.
The spicy ditty is awkwardly introduced into the movie. But once the song begins to roll, the audience, the Bachchans, the extras in the frame all end up drooling in unison at the hot, hot, hot Aishwarya Rai. Yes folks, she looks awesome. This one is truly an 'item'.
Post interval, the film trails off for a bit. There is a brief lapse for melodrama. Fortunately, the slip is short as Bunty and Babli get back to action.
The humour is light-hearted and spontaneous. The ideology behind conning is comically unapologetic and tongue-in-cheek.
All said and done, Bunty Aur Babli wouldn't be the same without Abhishek and Mukerji's enthusiastic performances. The two really seem to be having a ball making this film. As seen in Yuva [Images], their chemistry is natural and endearing.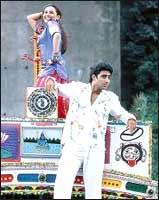 Mukerji keeps looking and acting better with every passing film. Here too, she shows her superb timing for comedy. Watch out for the scene where she cries aloud for her mother. Any other actress would have hammed. But Rani gets it just right.
Bachchan Jr has played a small-time guy in quite a few films like Bas Itna Sa Khwaab Hai and Tera Jadoo Chal Gayaa. But this one is special. He shares screen space with his father for the first time. And the father-son duo combo is quite a treat. The two are absolutely adorable, and in the spirit of the movie, have a blast.
Director Shaad Ali Sahgal proves he knows his job well once again. Saathiya [Images] was credited to Mani Ratnam's brilliance, but Bunty Aur Babli is his baby.
Bunty Aur Babli is the perfect way to beat the heat this summer. What are you waiting for? Go watch it!