Advertisement
May 25, 2005 14:11 IST
Last Updated: May 25, 2005 14:48 IST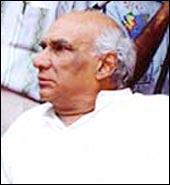 Director Yash Chopra [Images] has shared a long association with Sunil Dutt. The actor memorably starring in Chopra's films Waqt, Faasle and Parampara.
The veteran director expresses anguish about Duttsaab's death in a brief interview with Patcy N .
I didn't believe it when you called me that Duttsaab is no more.
I travelled with him just a month ago to Delhi. I knew Duttsaab for more than 51 years. It is such a long friendship; people don't remain friends for so many years.
Have you met Sunil Dutt? | Pay homage
He was such a wonderful human being. As an artist, as a producer, as a director, as a husband, as a father and as a friend, you can't find such integrity, honesty and sincerity. He went for a padh yatra (rally) from Mumbai to Amritsar [Images] (in 1988), not for personal gain, but because he believed he should do so for the peace of the country. In whatever he did -- politics or films -- he was sincere.
| | |
| --- | --- |
| | Sunil Dutt on rediff.com ! |
| | |
Jo bhi filmo mein kaam kiya voh bilkul lagan se, dil se kiya; un par koi daag nahi laga sakta. (Whatever he did in films, it was with great dedication, and from the heart; no one can reproach his sincerity) He gave his best to films.
I first met him when we were trying to sign him for Ek Hi Rasta. At the time, he used to work in radio. Then I met him at a studio in (Mumbai's) Peddar Road. After that, we were very close friends. We worked in so many films together. I was an assistant to my brother (director B R Chopra) for Ek Hi Rasta and then Sadhana.
If I told Duttsaab what work (I needed him to do), he was always ready, even for a guest role.
I have never seen such a decent human being.