Advertisement
May 23, 2005 18:41 IST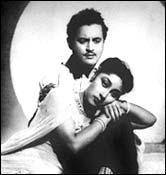 Time magazine's just-announced list of the 100 best films in motion picture history can be called a safe bet, but throws up a few interesting and quirky suprises.
The list, compiled by Time's movie critics Richard Corliss and Richard Schickel, contains the usual American classics -- The Godfather, ET, It's A Wonderful Life, Pulp Fiction -- but also includes some eclectic and curious choices, making for quite a well-compiled selection.
Any list of directors would be complete minus the immortals, and here too is present the inevitable lineup of gods -- Federico Fellini [Images] (8 1/2), Akira Kurosawa (Yojimbo), Francois Truffaut (The 400 Blows), Satyajit Ray (his Apu trilogy -- Pather Panchali, Apur Sansar and Aparajito), Stanley Kubrick [Images] (Dr Strangelove Or How I Learned To Stop Worrying And Love The Bomb) and Alfred Hitchcock (Psycho).
Besides Ray's three celluloid masterpieces, the list touches on a couple of other Indian films, treating the varied genres with decided reverence -- Guru Dutt's 1957 masterpiece, Pyaasa; and Mani Ratnam's brilliantly crafted Godfather-istic 1987 film, Nayakan.
The two critics spring a few surprises. Comedy genius Woody Allen [Images] makes the cut, obviously, but not in the expected manner. Instead of his most-acclaimed Annie Hall, the Time scribes picked his delightful 1985 film, The Purple Rose Of Cairo.
Similarly, the list admits such shocking choices like David Cronenberg's 1986 hit, The Fly. Picked by Corliss, this selection evidently disgusted Schickel, and Corliss' defence of the graphic Jeff Goldblum film is very amusing indeed.