Advertisement
May 13, 2005 16:23 IST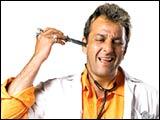 It was remade in Tamil (Vasoolraja MBBS, with Kamal Haasan [Images] and Prabhu), and Telugu (Shankardada MBBS, with Chiranjeevi [Images] and Srikanth). 
Now, director Rajkumar Hirani's Munnabhai [Images] MBBS, starring Sanjay Dutt [Images] and Arshad Warsi [Images], will be made by 20th Century Fox in English! The film was produced by Vidhu Vinod Chopra.
Munnabhai MBBS is about a local goon (Dutt), who enters the medical world to fulfill the dreams of his father -- an upright moral man played by actor-turned-politician and Sanjay's real-life father, Sunil Dutt, who returned to the screen after a 17-year gap). He is aided on his quirky journey by his trusted friend and righthand man, Circuit (Warsi).
Sam Fernandez, CEO, Vidhu Vinod Chopra Films, confirms, "We received a call from the company [20th Century Fox] stating they were interested in remaking Munnabhai MBBS in English. It took around five to six months after the call to translate the thought into an agreement."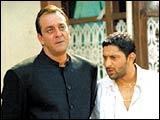 "The film will not be dubbed," adds Fernandez, "but it will be a remake in the Hollywood format. Vidhu will be part of the production team and may also be part of the distribution network in India, though the latter is still to be finalised."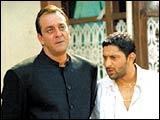 20th Century Fox will finalise the cast with no intervention from our side, he confirms.
Chopra is now in the United States of America, working out the details of the agreement.
The film will carry, in its credits, the name of Vidhu Vinod Chopra Films and Rajkumar Hirani.
© Copyright 2008 PTI. All rights reserved. Republication or redistribution of PTI content, including by framing or similar means, is expressly prohibited without the prior written consent.