Advertisement
May 13, 2005 21:01 IST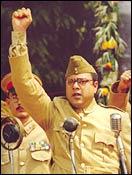 I studied history at the college Netaji Subhas Chandra Bose went to. When our studious seniors ragged us, some of us were given pieces of chalk to go mark the staircase on which Netaji slapped a white professor -- Oten -- because he called Indians 'barbarians.'
Why am I bothering you with this useless brag? Because Shyam Benegal's [Images] Bose: The Forgotten Hero makes me wish I had attended some classes, instead of doing what, in Presidency College Calcutta parlance, was called 'canteen honours.'
Perhaps then, I could have given you better insight into the epic film on one of the most enigmatic figures in Indian history. Perhaps then, I could have cited historical errors, other than Udo Schenk as Hitler [Images] looking a trifle too tall beside the six-foot (by the movie's admission) Netaji.
The film begins with the Tripura Congress meeting in 1939, with Bose resigning as Congress president because he doesn't believe the British will listen to the language of non-violence.
| | |
| --- | --- |
| | More on rediff.com! |
| | |
It jumps to Bose being arrested, and when he goes on a fast unto death, being kept under house arrest. He escapes to Afghanistan, because he wants to go to Russia [Images], and take the Communists' help. Snubbed, he turns to the Axis powers: Italy [Images], Germany [Images] and Japan [Images]. Berlin gives him asylum, where he meets Hitler, who, by launching Operation Barbarossa, has made the same arrogant mistake Napoleon Bonaparte made: of invading Russia, thinking Moscow [Images] will fall before the deadly Russian winter does.

 

In Germany, Bose meets the woman he marries, Emilie Schenkl, and Indian prisoners of war, who were fighting for the Allied forces, captured in Africa by Hitler's forces. He convinces them to prepare to fight for the motherland and secures their safety with Germany releasing them to his custody.

 

Meanwhile, Japan pulverises Pearl Harbour near Hawaii and begins its conquest of South Asia. Netaji spots an opportunity and travels in a German submarine, changes to a Japanese one off the coast of Madagascar, and arrives in Indonesia. He travels to Tokyo, where the Japanese assure him of help in fighting the British. He forms the Indian National Army in Singapore that fights its way into India, in Manipur. By then, the Second World War tide has turned and the losing Japanese cut off the paltry help they had been giving Bose's INA, sealing its fate.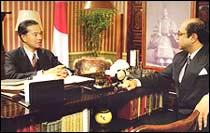 Netaji is a legend. So much so that the average Bengali kid -- yes, we Bongs have a tendency of claiming for ours, paradoxically and wrongly, a man who was born in Cuttack, Orissa, and lived for the entire nation -- grows up on myths about him. Like: 'Netaji jumped off the roof of his Calcutta house using his umbrella as a parachute.'
Benegal's film does not really throw any new light on such a legend's life. That is the only complaint you can have. That and the odd jumps in the film, which I suspect were the cinema hall's doing.
Sachin Khedekar looks every bit the Netaji India knows from photographs, and does a good job in the acting department too. Some supporting actors are brilliant, such as Kulbhushan Kharbanda (playing Uttamchand Malhotra, who gives Netaji shelter in Kabul), the woman who plays his wife, Rajit Kapoor (playing one of Netaji's trusted lieutenants, Abid Hasan), to name a few.
The film's locales make you wonder why you are whittling your life away in air-condition prisons. The action is realistic. There are plenty of goose flesh and lump in the throat moments. There are some poetic ones too.
Rahman's music is truly inspiring. His choice of the Rabindranath Tagore song, Jodi tor dak shune keu na ashey tobey ekla cholo re (If no one heeds your call, march alone), as a sort of theme for the movie could not have been more apt. The interpretation is very nice too, which would have been impossible till a few years ago, when the Vishwa Bharati University had the copyright on Tagore's songs.
But choosing a lullaby (Ghum parani mashi pishi) for almost every personal moment in Netaji's life is funny.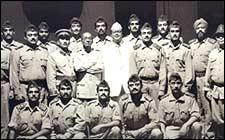 There are also some moments you feel are over-dramatic. Like when Netaji convinces the Indian POW in Germany to take up arms against the British.
You could call the movie a tad monochromatic. History is filled with asides, and except his romance, which to me is irrelevant to the greatness of the man, the film remains one-dimensional. Portions such as Netaji telling Hitler on his face that invading Russia is a mistake are a trifle hard to believe.
Perhaps there is no other way of telling the story of the man who many refuse to believe was killed by a simple plane crash in August 1945. The film is for the masses such as me, not for scholars.
Then again, it is set in a time when cynicism and irreverence were not as rampant. When men were not mere mortals. When an idea was worth dying for.
The same reason why we write Independence with a capital I.