May 11, 2005 17:16 IST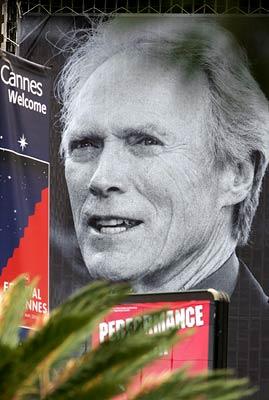 'Do you feel lucky, le punk?'
Cannes has gone so Hollywood over the last decade that it's getting to be more like the MTV awards in Miami [Images], than the showcase of great international cinema it used to be.
This year too sees big Hollywood releases garnering all the billboard attention, with the attention on big studio films like War Of The Worlds, the Steven Spielberg [Images] film starring Tom Cruise [Images], and the eagerly anticipated final installment in George Lucas' mega-million churning saga, Star Wars: Episode III - Revenge Of The Sith.
Here, America's favourite -- read Oscar sweeping -- director Clint Eastwood shines larger than life (and the 'Welcome to Cannes' [Images] posters) as the annual celebrity-fuelled festival got under way today at the French Riviera resort.
Million Dollar Baby is all very well, but we think Clint still looks like Dirty Harry.

Your choice: Ash, Mallika, Nandita?

Photograph: Gerard Julien/AFP/Getty Images