May 10, 2005 19:07 IST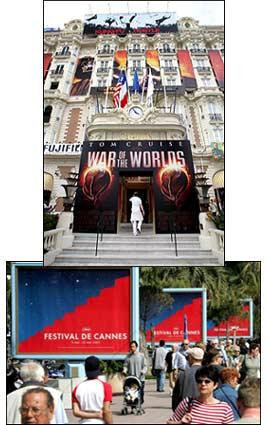 The countdown to the Cannes [Images] Film Festival 2005 has begun.
A day before the 58th edition of the international film festival begins, the French Riviera town is all hustle and bustle.
The Carlton Palace entrance (left) provides a lavish backdrop for the first screenings of Steven Spielberg [Images] and Tom Cruise's [Images] mega adaptation of H G Wells' War Of The Worlds.
Hundreds of international superstars, accompanied by their entourages, have converged on the little town. Walking on the Croisette (left, below) are seen some of the estimated 2,50,000 spectators and fans, 35,000 film industry professionals, and more than 3,000 journalists from over the world attending the annual festival.

This year, celebrities at Cannes also include Bollywood actresses Aishwarya Rai [Images], Mallika Sherawat [Images] and Nandita Das.
 Who will shine at Cannes: Ash, Mallika or Nandita?
Photographs: Gerard Julien/AFP/Getty Images