Advertisement
May 06, 2005 18:42 IST


Ridley Scott's Kingdom Of Heaven is a physically breathtaking epic. Unfortunately, it also makes for hollow, earthly cinema, made worse by a bland turn by Orlando Bloom [Images].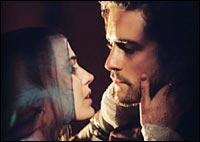 He is weakest in some of the movie's complex situations, especially those involving his character's effort to find solace in meditative religion.
But the grand action -- especially in the final battle scenes, a train of conspiracies and the recreation of the bustling, multinational ancient Jerusalem -- definitely holds appeal. And, despite a loose middle section, the film cannot be faulted for lack of energy.
All the loud whispers that the film will provoke Muslim anger and turn Scott into a minor Salman Rushdie, now seem to have been purely exaggerated. Kingdom Of Heaven does deal with the contentious period of Christian and Muslim confrontation in Jerusalem and the fall of the former, but the script places quite a bit of the blame on a handful of artless Christians.
Scott, who was criticised by many for showing the Somalis in consistently bad light in Black Hawk Down, is careful in dealing with the Muslim characters in Kingdom Of Heaven. Some will, no doubt, fault him for being too politically correct. The movie also presents a gracious portrait of Saladin, the Muslim warrior hero.
| | |
| --- | --- |
| | Also Read |
| | |
Despite Bloom's less-than-convincing performance as an ordinary man thrust into extraordinary events, the film has a number of interesting performances by British and American thespians like Liam Neeson and Edward Norton.

Playing a leper king and hiding behind a mask, Norton offers an arresting performance using his voice and splendid body movements. But more compelling is the Syrian actor, Ghassan Massoud, as Saladin, who effectively uses his penetrating eyes and deep voice.

We do, however, miss an actor of Russell Crowe's stature who gave Scott's Gladiator quite a bit of heft.

Bloom plays French blacksmith Balian, who is grieving his wife's suicide and death of an infant son. He doesn't know what to do with his community which has ostracised him because of his wife's sacrilegious act.

The surprise appearance of his long-lost knight father (Liam Neeson in a brief, but powerfully etched, role as Godfrey of Ibelin) leads the young man to 12th-century Jerusalem  But not before he is trained by his father in the art of combat.

Balian begins assuming control of his father's estates in Jerusalem. Meanwhile, Jerusalem's decent ruler, Tiberias (Jeremy Irons) and a member of the military order of Hospitaler (David Thewlis) are challenged by war-mongering Guy de Lusignan (Marton Csokas) -- who is married to the king's alluring sister Sibylla (Eva Green [Images]) -- and his wily, temperamental lieutenant Reynald de Chatillon (Brendan Gleeson).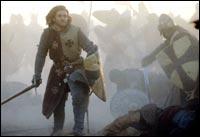 Balian warns the troublemakers against provoking Saladin, but they do exactly what they want. A thoughtless attack on Saladin's caravan leads to a war that seals the fate of the Christians in Jerusalem.
Scott has said he sees his film as a cry for peace and a damnation of religious wars, but the script by first-timer William Monahan fails to translate those ideas into something compellingly true.
Amidst all the conniving and stirring combat scenes to follow, one yearns for more interestingly defined characters.
One of the weakest characters in the film is that of Sibylla. Here is a woman who has a noble brother for a king, a greedy and reckless man for a husband and a handsome ordinary man thrust into extraordinary events as a lover. Yet, like most other characters in the film, she remains a one-dimensional personality.
DON'T MISS