Advertisement
March 29, 2005 19:44 IST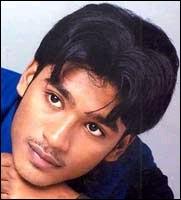 Dhanush's big brother Selvaraghavan made him what he is today. Dhanush's first film, Thulluvatho Ilamai, directed by his brother (though the credit has been given to their father Kasturirajan) was a huge hit. It was followed by Kaadal Kondein which made Dhanush a sensation all over Tamil Nadu.
He became such a craze that his fans threw him in the air once to show their love and broke his arm!
His next film, Thiruda Thirudi, especially the song Manmada Rasa, created hysteria among youngsters. It appeared Dhanush, a thin, lean and not very pleasant looking fellow will be the next Rajnikanth [Images]. But it was not to be. All his films that came later were meaningless, and bombed at the box-office.
| | |
| --- | --- |
| | More on rediff.com! |
| | |
Meanwhile, Selvaraghavan made 7 G Rainbow Colony with newcomer Ravi Krishna, in both Tamil and Telugu. The film was a hit in both languages. Selvaraghavan's heroes are not supermen; they are as ordinary as the man on the street. No wonder audiences identified with his heroes. Dhanush made a mistake when he tried to be superman in his films.

It seemed that only his big brother could rescue Dhanush's career. Selvaraghavan, who was to shoot Oru Naal Oru Kanavu entirely in Mauritius, is getting ready to make a film titled Puduppettai in Tamil Nadu. Selvaraghavan's two favourites are associated with this film too -- cinematographer Aravind Krishna and music director Yuvan Shankar Raja.

Will he lift his kid brother's sagging career?

Fazil to direct Oru Naal Oru Kanavu

Selvaraghavan has stepped out of Oru Naal Oru Kanavu, and now Fazil will direct it for Lakshmi Moviemakers. Instead of Dhanush, another young hero, Srikkanth, leads the cast. Fazil has retained the original heroine, Sonia Agarwal, in the film.

It is after a long gap of six years that Fazil is making a film in Tamil. His last Malayalam film, Vismayathumbath with Mohanlal and Nayanthara was a colossal flop. But he has had some very big Tamil hits like Kathalukku Mariadai which made Vijay the hero that he is today.

Srikkanth in Kana Kandein too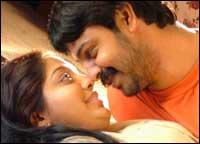 Srikkanth seemed to have it all to be a romantic hero. No wonder his entry through Rojakoottam was like lightning.
Though he could not reproduce the success later, he has been described as a safe hero. When he tried to move away from the romantic image in Bose, it was not accepted fully by filmgoers. He is once again back as a romantic hero in cinematographer K V Anand's first directorial venture Kana Kandein.
Then, he has Fazil's love story Oru Naal Oru Kanavu.
K Balachander makes a comeback
The master filmmaker K Balachander has decided to direct a film after a long gap.
It is said that it was under pressure from his sishya Prakash Raj [Images] that he has come out of hibernation to direct a film, for the former's banner.
Balachander's last film Paarthale Paravasam was a disaster as it reminded many of a television serial. Everybody expects K Balachander's 101st film for Prakash Raj to be a masterpiece like his earlier films.
Surya does a short film to fight TB
It is National Award winning filmmaker Janaki Viswanathan's second film for REACH (Resource group for Education and Advocacy of Community Health).
This time, she has decided on a popular actor to fight social stigma and to spread the message on the role of DOTS (Directly Observed Therapy, Short-Course) providers.
Janaki had nice words for Surya. "He is such a wonderful human being that he readily agreed to work free for a cause! He was extremely friendly and warm," Janaki claims.
She is also readying to start her first Hindi film with Nandita Das and Jackie Shroff [Images] in May.
The most awaited April 14 release!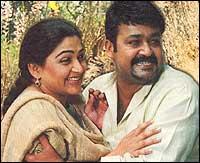 Major films are released during Onam, Christmas and Vishu in Kerala [Images].

April 14 is Vishu in Kerala and the most awaited film this year is Mohanlal's Chandrotsavam. Like it was mentioned in

last week's column, the movie includes Carnatic music. Whenever Mohanlal has acted in films based on classical music, they have been huge hits, like His Highness Abdullah, Bharatam, etc.

For the last few years, Mohanlal has been twirling his moustache and not singing raga based songs. Now that he has decided to be a singer called Srihari in Chandrotsavam, expectations are high. With Renjith as script writer and director, the film is expected to be a treat for the eyes and ears.

Another interesting aspect about Chandrotsavam is that three Tamil actresses feature in it -- Khushboo, Sujatha and Meena. Though Khushboo has been appearing on television even after the birth of her two daughters, she has been staying away from the big screen.

But the role offered by Renjith was so good she agreed to act in the film. Meena has now become a favourite to be paired with Mohanlal. In the first major hit of 2005, Udayananu Tharam, she was Mohanlal's heroine. Will she be lucky for him in Chandrotasavam too?