Advertisement
March 25, 2005 18:16 IST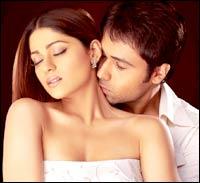 Mohit Suri makes his directoral debut with Zeher [Images]. Just 24 years old, Mohit happens to be Emraan Hashmi's [Images] cousin. He has worked with the Bhatts as an assistant director on Raaz and Kasoor. This film proves the boy has promise, even though his film suffers from a hangover of the films of his mentors.
Zeher revolves around two married couples, Siddharth (Emraan Hashmi) and Sonia Mehra (Shamita Shetty [Images]), both cops, and Anna (Udita Goswami [Images]) and Shaun Verghese (Siddhant Kochchar), and Shaun is a criminal. To add to our dislike for the character, he also happens to be a wife-beater. 
Siddharth asks his wife to get out of the house. The husband is upset that the career-loving wife has aborted their child because of her need to start working again.
| | |
| --- | --- |
| | More on rediff.com ! |
| | |
Siddharth meets Anna Varghese one night, and they spend it together. After this, they start meeting constantly. Parallel to the story of affairs and intrigue is a murder plot, which starts post-interval, as Anna and Shaun are killed.
Zeher is a slow thriller, and only picks up speed after the interval. Prior to the interval, there are a lot fo love-making scenes between Anna and Siddharth which will have the front-benchers hooting for more.
Emraan Hashmi has done a passable job, except for the scenes where his character gets angry. The young man yells so loudly that he could well compete with a Sunny Deol!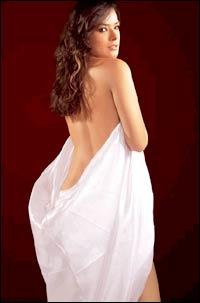 Shamita Shetty has given a surprisingly good performance, a very underplayed acting job. She is wasting her talent doing item numbers and unwanted roles. With some good career decisions, this girl should do meatier roles in future.
Udita Goswami, as a seductress, has not much to do.
The highlight of the film is Ninad Kamat. As the friend and fellow police officer of Emraan Hashmi, he provided the spark the film needed.
The track Agar tum mil jao zamana chhod denge hum sung by Shreya Ghoshal has good lyrics, and is hummable. The music by Anu Malik [Images] is passable to say the least.
Writer director Mohit Suri has done a commendable job considering his inexperience. The script is gripping and entertaining, and the film has all the flavours of a typical Bhatt production.
The film is just about watchable, because of the story in the second half. It's the kind of film that's decent timepass, provided you are watching it at home on television.
To put it simply, no need to spend money on Zeher!