Advertisement
March 24, 2005 18:18 IST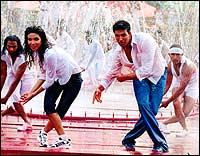 The Holi song has lent resplendent colour to Hindi films for more than five decades now. In the late 1950s era of early colour films, the festival provided filmmakers a welcome chance to sprinkle the screen with a splurge of colour: Mother India's Holi ayee re Kanhai, and Navrang's Arrey ja re hath natkhat come to mind.
Since then, this cinematic tradition has smoothly segued without missing a synthesiser beat to the post-millennial era of Baghban (Holi khele Raghubeera) and the yet-to-be-released Waqt (Do me a favour let's play Holi).

In the process, this colourful festival has served as a backdrop to and catalyst for a gamut of emotions that screen characters have expressed. Emotions are unfurled right in the midst of the colourful swirl of Holi.

The predominant colours of Holi are, of course, the colours of celebration.


| | |
| --- | --- |
| | More on rediff.com! |
| | |
In Sholay [Images], when Ramesh Sippy wanted to create a mood antithetical to the one that would prevail when the dreaded dacoits attacked the little hamlet of Ramgarh, he picturised the Holi song, Holi ke din dil khil jaate hain, rango men rang mil jaate hain. Women daintily knocked over mounds of colour, and the screen was filled with joyous sounds and scenes of revelry as Dharmendra [Images] and Hema Malini [Images] sang and danced to their heart's content forgetting all about the imminent danger.

Though a trifle longer in the tooth by then, Dharmendra and Hema sought to recapture that fervour seven years later in Rajput's Bhaagi re bhaagi re bhaagi Brij baala Kanha ne pakda rang dala, with Vinod Khanna and Ranjeeta for company. Director Vijay Anand deftly created an atmosphere of riotous bonhomie. Earlier, he had created another memorable Holi sequence in Guide with the Ayee holi ayee stanza in the classic Piya tose naina laage re where, with the help of grand sets and pichkaris galore, he captured heroine Waheeda Rehman's [Images] exuberance after she discovers love. Thus making full use of an opportunity to unleash her dancing prowess.

On or off-screen, the film industry fervently believes in heartily enjoying Holi. Traditionally, some of the biggest names in films have held grand Holi bashes which have seen much camaraderie come to the fore -- Raj Kapoor, Amitabh Bachchan [Images] and Yash Chopra [Images] have been famous for their annual festivities. And this has spilled over into their films too.

Yash Chopra has repeatedly used the Holi motif in his films. In his 1984 Mashaal, the popular Holi aayi holi aayi dekho holi aayee re serves as the occasion for the profession of love for Anil Kapoor [Images] and Rati Agnihotri [Images] as well as veterans Dilip Kumar [Images] and Waheeda. In Darr, Chopra injected suspense into Ang se ang lagana sajan mohe aise rang lagana with obsessive stalker Shah Rukh Khan [Images] disguising himself in colours to steal an intimate moment with Juhi Chawla [Images], innocently wrapped up in the celebrations. Chopra's newcomer-studded Mohabbatein too had a match-the-couples holi number, Sohni sohni ankhiyon wali.
Amitabh is justifiably famous for his Holi songs leading right upto his latest, Baghbaan's Holi khele Raghubeera in which the 62-year-old star matches steps with the ever-graceful Hema Malini. Of course, Amitabh's most famous Holi number, arguably the most cited Holi number ever (and a onetime-Doordarshan favourite to boot) came 20 years earlier in his Yash Chopra directed Silsila.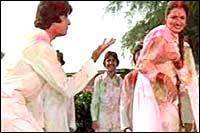 Here, an element of masti, unabashed flirting and the consequent embarrasment was incorporated into the festivities with ex-lovers Amitabh and Rekha [Images] dancing under the influence of bhaang while current spouses, Jaya Bachchan and Sanjeev Kumar respectively, looked on, helpless.

The loosening of constraints at Holi also brought home to Smita Patil her husband's intentions in Aakhir Kyon. As her husband Rakesh Roshan unabashedly cavorted with Smita's sister Tina Munim to Saat rang mein khel rahi hai dilwalon ki holi re, Smita had no choice but to acknowledge their inordinate closeness.

If the happiness of Holi has been employed to contrast the sadness in a character's life, the colours of Holi have also been used to evoke a feeling of rejuvenation. The hero cleverly takes this opportunity to professes his interest to the widowed heroine. And filmmakers, of course, can't resist the visual disparity evoked by the Holi colours and the widow's weeds.
In Kati Patang, Rajesh Khanna zestfully sings Aaj na chodenge bas hamjoli khelenge hum holi to shrinking violet Asha Parekh, who responds with a straight-from-the-heart cry, Apni apni kismet dekho, koi hasse koi roye. In Dhanwan, its Khanna again, singing Maaro bhar bhar bhar pichkari while pleading with a white-clad Reena Roy to give life, and him, a second chance.
Reformed henchman Dharmendra's affection for abandoned widow Meena Kumari in Phool Aur Patthar's Layi hai hazaaron rang holi leaves her with mixed feelings -- she is afraid of social backlash even as she's stirred up with desire to reciprocate his affection.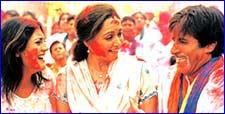 Many a myriad mood is reflected in the Hindi film Holi songs. In Zakhmi, avenger Sunil Dutt sings Dil mein holi jal rahi hai as he searches for the wrongdoers. In Kaamchor's Mal de gulal mohe, the happiness of a couple is contrasted with Jaya Pradha's sorrow at being separated from husband Rakesh Roshan; the song simultaneously evokes the moods of milan (union) and birha (seperation). Souten's Meri pehle hi tang thi choli revels in the bantering between lovers Rajesh Khanna and Tina.

In Rajinder Singh Bedi's poignantly penned Phagun, Waheeda abruptly stops singing Piya sang khelu holi phagun aayo re and stings her husband Dharmendra with a caustic remark when he douses her expensive sari in Holi colour. Dharmendra is deeply distressed by her aberration, momentary as it may have been, and a long and painful separation follows.

Whether as a plot pivot or as a mood weaver, the Holi song is a perennial in our cinema. These songs have seeped into our imagination and their hold over our collective consciousness now runs as deep as the colours of Holi.
Don't Miss!
SMS HOLI to 7333
Holi Hungama