Advertisement
March 15, 2005 15:20 IST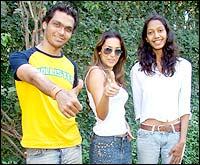 T

he country boat at Mumbai's Versova beach, which ferries one to Madh Island, does not look inviting. It rocks the moment you hop onboard. But this is only one of the barriers one had to cross to reach the sets of Lakme Fashion House -- a house to 16 contestants on India's latest reality television show.

While most channels have been concentrating on finding singing and acting talents through reality shows, Lakme Fashion House (aired on Star One, Saturday and Sunday, 9 pm, repeat viewing at 11.30 pm on Wednesday and Thursday) is perhaps the first one to zero in on the country's best young designing talents.

After an initial screening, the contest is now down to 16 contestants who have been staying in Madh Island for more than a month. And trust me, staying there is not easy. Round the clock, from every nook and corner of the bungalow where they are put up, the contestants have 32 cameras trying to catch them unawares and get some off-screen humorous footage. As the punchline of the show says, 32 cameras, 16 lives, zero privacy.
| | |
| --- | --- |
| | More on rediff.com! |
| | |
But at the end of it all, the winner gets a six-month internship with the renowned Versace design house in Milan, a fast-track entry into Lakme India Fashion Week and the chance to sell his/her creations under the brand name Versus. The winner will be decided by a panel of judges led by Dontella Versace -- who now runs the house of Versace founded by her legendary designer brother Giovanni Versace -- and Indian designers Abu Jani and Sandeep Khosla (seen below with Amrita Arora [Images]).

Karishma Mansukhani, the programme's director, told rediff.com, "We zeroed in on Abu Jani and Sandeep Khosla since they are amongst the few to have a rare mix of creativity and business acumen. We felt they would be perfect for choosing the best designer from the country."

Within a few minutes of sailing, we reach the Raheja Estate in Madh Island, and two palatial bungalows greet you. One of them is home to the 16 contestants, while the other serves as a production and control room for FBC Media, producers of the show.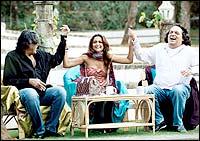 Siddharth Bahuguna, series director for Lakme Fashion House, says "Both these bungalows are wired! About 5.5 km of cable has been laid to connect all the cameras and production equipment required for the show!" He informs us that a retinue of 90 crew members live at the bungalows to ensure seamless operations round the clock.
Why does a show like LFH require so many cameras? "Cameras peeping into the personal lives of contestants are necessary for a reality show like this. All other reality shows which identify the best singer or the actor require a contestant to perform at a particular time. But here, we are trying to unleash the creativity of an individual who needs to work throughout the day."
Bahuguna leads us to the control room, which houses 16 monitors displaying live images of the lobby, garden, boys' dormitory, girls' dormitory, workshop and almost all corners of the sets. You can see all kinds of images including a contestant changing! The adjacent room is where these images are being edited and finalised for telecasting. Online editors work in shifts to ensure that not a single interesting frame is left out.
Next, we move to the adjacent house where the contestants are getting ready. The Lakme Fashion House has two dormitories -- one for men and the other for women, a workstation for the contestants and a workshop where tailors are at work under strict supervision of the contestants.
The living room houses a giant screen television. But the contestants inform us sadly that they are not allowed to watch television lest they draw inspiration from serials! A small pantry allows the contestants to brew tea and coffee whenever they wanted.
One of the 16 contestants, Bhawana (right, in top image with Malaika Arora-Khan), is a third-year NIFT (National Institute of Fashion Technology) student from Gurgaon. "I got to know of this show from the Internet and applied immediately," she says. "After passing the auditions, I got it. From Day 1, the experience has been extremely good. All of us here have come so close to each other that we do not feel like rivals. This is what has kept us going despite hectic schedules. There have been instances where we have worked at a stretch for 60 hours!"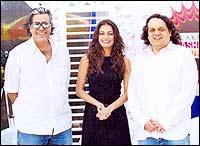 If she wins, Bhawana hopes to dress up Amitabh Bachchan [Images] and Shah Rukh Khan [Images].
The contestants, interestingly, did get to dress a Bollywood star -- Kareena Kapoor [Images].
Shahzad Kalim, another contestant from Patna, says, "I was very excited since it was totally unexpected. I was clueless initially, but somehow managed to create something." Kalim, before taking part in the contest, worked as a designer at the Delhi-based Triburg Design House. Kalim's creation won one of the two prizes for dressing Kareena up.
Swapnil Shinde (left, in top image with Malaika-Arora Khan), who lives in Mumbai, also created a dress for Kareena. But she did not like it! "I realised the importance of individual taste for a dress. I felt she would look gorgeous in the dress I created but she did not feel the same," he says about his pink gown for the actress.
Swapnil used to work in a Kamya showroom in Mumbai, and after completing his studies at NIFT, went to the Instituto Dimoda Burgo, Milan, for a diploma. "It's not that I am not used to staying away from home, but it is difficult for me being a Mumbaikar to stay so close to my home, and yet not being able to go home," he says. He has not been allowed to visit home since he entered the contest. "I can call home only once a week. But, thanks to the friends I have made here, I got over that sadness."
The steady stream of celebrity guests -- Abhishek Bachchan [Images], Dia Mirza [Images] (above, left with Abu Jani and Sandeep Khosla), Amrita Arora and Malaika Arora-Khan -- also ensure the contestants constantly get their dose of glamour.
Donatella Versace is expected for the grand finale where out of these 16, six will be selected.
Malaika Arora-Khan with Bhawna and Swapnil: Pradeep Bandekar