It has been in the air for a while now. A discerning observer of the Chennai scene may have noticed people counting the days leading to what is touted as one of the biggest occasions in Tamil Nadu's recent past -- the release of The Superstar's latest movie, Chandramukhi. And after an agonisingly long wait, the multitudes who have perfected the art of Rajni worship have something to cheer about.
Rajnikanth's [Images] fans have always expected great things from the music directors who compose music for his movies. Thus, though composing the music for a Rajni movie is indubitably a great honour that every composer thirsts for, it is also a terrible burden. The memories of raucous groups of Rajni fans baying for the unfortunate music director's blood after his compositions for Baba failed to meet their exacting standards, were probably still fresh in Vidyasagar's mind as he penned the tunes for Chandramukhi.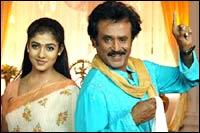 After a long adventure to get hold of the audio cassette, it was an extremely curious reviewer who ripped open the cassette cover. The cover includes a smiling visage of the superstar, sunglasses et all. One can readily picture Rajni fans riding waves upon waves of ecstasy at this sight.
As one pops the cassette into the player, one cannot help but wonder whether the music, however exceptional, can even hope to live up to all the hype surrounding it.
The album starts off promisingly with Devuda Devuda, which finds S P Balasubramanian in top form.
This is followed by a duet, Konjam neram, sung by Asha Bhosle [Images] and Madhu Balakrishnan. One tried listening to it several times while perched in several different positions, trying to discover something distinctive in the song -- a strenuous activity, and one that yielded nothing. Though melodious in a forgettable kind of way, the song has nothing else going for it.
Tinsel town has been abuzz with rumours of Chandramukhi being loosely inspired by a Malayalam film. These rumours rush into one's mind as one listens to the third track on the album, Athithom. A soft, melodious song, this is the kind of song that is uncharacteristic of the superstar. The mridangam playing in the background remind one of Malayalam film songs -- a tribute perhaps?
| | |
| --- | --- |
| | More on rediff.com! |
| | |
The cassette whirs to a stop after this track; this is the point at which one decides as to whether one should carry on listening to Side B or not. This decision was easy to make when one was listening to
Ram
's masterly music (by Yuvan Shankar Raja). It was not as easy with
Chandramukhi.
After some thought, this reviewer arrived upon the conclusion that the first side wasn't half bad after all. As a consequence, Side B whirred to life.
Kokku para para is an insipid track, and is eminently forgettable. Not even the voice of one of Tamil music's most talented young singers, Tipu, can save this song from crawling into Tamil music's hall of dull songs.
With the next track, Raa Raa, Vidyasagar delivers a rather listenable track. Anyone who has watched the Malayalam film that supposedly served as an inspiration for Chandramukhi will be definitely reminded of one of the scariest tracks in recent history -- Orumurai vandhu paathaaya.
However, Raa Raa does not measure up to Orumurai vandhu paathaaya, essentially because Binni Krishnakumar's voice does not have that zing which is essential if a song is to haunt its listeners.
I was not disappointed with the last track, Annanooda paatu. The song is vintage Rajni, and gets your feet tapping. One can almost picture Rajni brandishing his trademark cigarette and sunglasses as he gyrates to the beat. If one is a die-hard Rajni fan, then one is likely to go beserk dancing to this. This one's a homer, folks!