Advertisement
March 04, 2005 19:07 IST


I

mtiaz Ali, the debutant director and writer of Socha Na Tha, has done a good job in both capacities. While watching the movie in a theatre, I overheard a spectator saying the film was paisa vasool. I agree.

The movie makes you forget your worries for a while.

Socha Na Tha

is about Viren Oberoi (Abhay Deol), a confused guy. He is in love with Karen Fernandes (Apoorva Jha) but he does not have the guts to propose to her. Meanwhile, his parents want to arrange his marriage with Aditi (Ayesha Takia [Images]).

Aditi and Viren decide to scuttle the marriage. This strains the relations between the two families.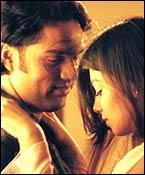 Viren gathers the courage to propose to Karen and she agrees. But the Oberoi khandaan is dead against the Hindu-Christian wedding. As time goes by, Viren starts falling in love with Aditi.
When the Oberoi khandaan finally relents, Viren changes his mind about marrying Karen. And there is a whole lot of confusion.
Abhay, the latest Deol on the Bollywood block, impresses in his debut. He has a good sense of timing and acts well. But he still has a long way to go, and if he wants to be like his bhaiyya Sunny Deol, he has to work hard on his bodybuilding. And also on his dancing skills.
Ayesha Takia is a sweet, energetic actress, but her role does not require too much acting skill.
Apoorva Jha needs to brush up on her acting.
The script is good, and the dialogues are nice. The music includes light hummable songs which are choreographed well.
Overall, Socha Na Tha is worth a watch.