Advertisement
March 01, 2005 18:05 IST


W

hen a filmmaker believes movies must convey a message, her films are most likely to end up being preachy.

But R Bhuvana's debut feature film Righta Thappa does not fall in that category. Bhuvana has earlier made short films with social messages, which have been screened at international film festivals and won awards.

Righta Thappa is based on an eve-teasing incident that happened in the interiors of Tamil Nadu. A journalist friend narrated it to Bhuvana and she turned it into a screenplay.
| | |
| --- | --- |
| | More on rediff.com! |
| | |
In the movie, the incident happens in the life of Satya [Images], a college student. He is a studious, obedient and responsible boy. He is aware of the difficulties his widowed mother, a school teacher, faces to educate him and his sister. Satya has big plans for himself and his family.
But a momentary lapse on his part changes their lives dramatically.
One day, under pressure from his friends, Satya has alcohol and teases some girls. Unknown to him, the girls are pushed into the sea by others, and die.
When Satya is arrested the next day for murder, his mother is shattered. She loses her job, and she and her daughter become objects of ridicule in the village.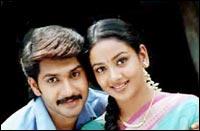 Bhuvana slowly builds the story to a crescendo in the end. You cannot call it a masterpiece, nor can you call it a technically sound film. But you can sense the sincerity and passion in each frame. It is a simple film shot in a realistic way.
Amid the unrealistic, just-titillation-no-plot Tamil films that are churned out every week, Righta Thappa will definitely stand out. There is no crude comedy, no action, no violence; you see only real emotions. You don't see superheroes, only normal people who look and live like ordinary people. That is the success of the film.
Bhuvana also elicits good performances from the cast. Though Ramana as Satya is good, the film belongs to Seetha, who plays his mother. She is never weepy or melodramatic. She is always in control of her emotions and behaviour. She looks and behaves like a true, courageous school teacher.
'If my film can influence at least four youngsters and dissuade them from indulging in eve-teasing, I will call myself successful,' Bhuvana said after the film's screening.
From the way the film has turned out, she can call herself successful.