Advertisement
March 01, 2005 18:58 IST


To the huge disappointment of Telugu movie buffs, celebrated filmmaker Bapu -- known for classics like Manavuru Pandavulu and Muthyala Muggu -- has chosen a tame plot for his comeback film, Radha Gopalam.

His female protagonist (Sneha) questions the 'gender bias' of law makers, but the director could have chosen a more complicated case to expose male-chauvinistic society instead of routine domestic violence.
| | |
| --- | --- |
| | More on rediff.com ! |
| | |
Srikanth, who plays a lawyer, marries Sneha despite her parents not fully supporting her decision. Their perfect married life slowly turns not so perfect with clashes over petty issues. Nevertheless, he supports her becoming a lawyer, and, suppressing his envy, displays happiness when she wins his first case. Then, unexpectedly, they take up a divorce case to oppose each other in court.
Determined to seek retribution for a distressed woman, Sneha braves the courtroom friction, even as their personal life is under siege. The rest of the film revolves around this conflict of the sexes. 
The thespian director's return to films -- after more than 10 years -- had generated enough buzz. He had carved a niche for himself as a realistic filmmaker, and inspired many next generation directors to tread a different path.
But Bapu uses Lord Krishna as Srikanth's conscience keeper, who keeps warning the husband whenever he tries to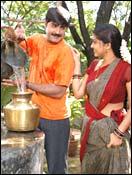 dominate his wife. The director tries to show the inequality of man and woman through one couple, but the issues could have been interesting. Boring arguments in court add to the viewers' woes.
Bapu makes Sneha win two cases by gimmicks and tricks, rather than on the strength of her arguments. It appears the filmmaker was unable to shrug off his own male chauvinism.

Actor Srikanth claimed it was a "dream come true" to be working with such acclaimed directors as K Vishwanath and Bapu, But his dream turned sour with a dud like Swarnabishekam, and let's see what happens to Radha Gopalam. The actor has, however, done a fabulous job as the husband who overcomes his ego to promote his wife.
Tamil actress Sneha looks beautiful like any other Bapu heroine, but her character lacks depth. She marries her love and keeps adjusting to his views until she takes up a divorce case against his wishes. This is presumably to give her traces of individuality, or else it would be another timid female character.

Character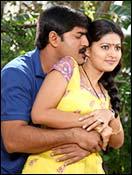 actor Raghanath, despite being a judge, keeps teasing his illiterate wife (Rajyalaxmi), showcasing gender inequality even among intellectuals. Ace comedian Brahmandam is wasted in an inconsequential role, while M S Narayana impresses as a  broker. Venu Madhav and Divyavani play a routine quarrelling couple.

Composer Manisharma's number Vaalu jaada is catchy, while the other tunes grow slowly on you. He shrugs off his mass-music compositions to come up with a 'soft' album.
Cinematographer Raju impresses with his picture-perfect lighting. The comedy track fails to impress, even as writer Mullapudi delivers his trademark punchlines to evoke a few laughs.