Advertisement
March 01, 2005 13:35 IST


T

hree days after the release of his Rs 29 crore (Rs 290 million) film, Bewafaa, Dharmesh Darshan tied the knot.

On Sunday evening, February 27, at a ceremony attended only by members of the families, the director married Bindya, the daughter of a family friend, in an Arya Samaj ceremony.

The event was so private that even close friends Manish Malhotra and Akshay Kumar [Images] were not present.

"Dharmesh has always been a recluse," says a friend. "He is hardly seen in public -- he never attends public functions and parties. It is just like him to marry so quietly."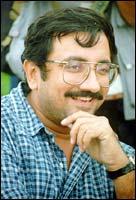 His brother Suneel Darshan confirmed the news. "It was a really quiet wedding. We did not invite anyone though dad (producer-financier Darshan Sabharwal) was very keen to invite Akshay whom he considers his third son," says Suneel.
Akshay was shooting for a film in Dubai. "I'd have loved to have been there for Dharmesh's wedding," he says. "But I got to know about it very late and there was no time to fly down. I have sent him my best wishes."
Adds Suneel, "Dharmesh has always been private. Even I don't take too much interest in his life. The match was arranged by our parents, with Dharmesh's approval. Complying with Dharmesh's wishes, we invited no one. The wedding was such a small affair that I didn't need to prepare for it at all!"