Advertisement
June 30, 2005 16:41 IST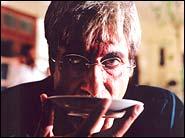 Sarkar has an amazing opening sequence. From Frame One, where we see a yellow and black autorickshaw framed artfully between barbed wire, Ram Gopal Varma's latest film begins with a hapless man going to meet Sarkar, in search of retribution for his raped daughter.
As he walks down the compellingly shot, dark hallways in the fantastically chosen old mansion, we sit rapt with attention, looking at a Godfather recreation -- the story of Bonasera, and how Don Corleone got him vengeance.
Sarkar does the same, and very interestingly. It's the same plot, but Ramu does it entirely his way, and it's very exciting to watch.
If only it continued in the same vein.
Sarkar could well have been an inspiringly awesome remake, but, as it gets increasingly diluted, it turns into The Godfather, rehashed. Flitting between Ramu's own take on an uber-powerful family and Francis Ford Coppola's classic, mixing mythology with masala, is far too ambitious a plan, and even a director as accomplished as Varma bites off far too much more than he can tolerably chew.
| | |
| --- | --- |
| | Sarkar on rediff.com ! |
| | |
Amitabh Bachchan [Images] is Sarkar, the Goodfather. A mafiosi leader with a strong NGO streak in him, he's effectively playing a grizzled, Marathi shahenshah, a man who essentially sits and listens to unjust tales, sending out a righteous army of goons. No immoralities for this soft dictator. He bears a resemblance to Shiv Sena supremo Bal Thackeray, but this is entirely superficial, confined to the rudraksh and the red tika.
Amitabh is incredibly restrained, his character bereft of soliloquy and bluster, and his task is to sit there and look simmeringly angry. This he does pretty darn adequately, and it's good to see the old man underplay.
Abhishek plays Michael Corleone. Only, in this case, he has been updated to a pink-shirted son studying abroad instead of Pacino's decorated army hero. In a film touting the young Bachchan as the best thing to happen to acting, he is given surprisingly little room to perform. His character, Shankar, toes dad's line with zealous loyalty. Which means he sits next to dad and tries to glare and look angry.
Abhishek is a fine actor, but his character is too thinly etched to really allow him histrionics.
Too thinly etched, you ask? Why, isn't this a take on the greatest crime saga of all, with some of the most memorable characters in motion picture history? Yes, but the quality of writing is abysmal. The dialogues are clunky, and there's a whole host of addendums to the Coppola concept, as if Varma wants to say this is his film, not a clone. Big mistake. It would never have been a replica, merely because of Ramu's treatment.
In the desperate urge to establish originality, the story overcompensates -- to very unfortunate effect. Sloppy editing, with an uncharacteristic lack of sharp economy usually shown by the director, worsens things further.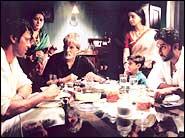 Kay Kay, playing Vishnu, the older son, is marvellous. He glares with an intensity putting the rest of the cast to shame. Every scene he is in sizzles with manic energy, and his screen presence is spectacular.
And this is where the rehash hurts. He starts off playing Sonny, the furious and reckless elder son of Don Corleone, and he pulls the film furiously along in this part. By the time the film coasts past intermission, however, his character is mixed with Fredo, the snivelling middle son. A ludicrous mix of opposites, this unsurprisingly wrecks Vishnu's persona. Still, by then, Kay Kay has made his mark.
Sarkar is Coppola by numbers, Ram Gopal Varma tragically dumbing down his film, taking it from high concept to nigh concept. He has added a slew of 'Indian' characters -- a Chandraswami: a Madrasi stereotype; a redundant politician (Anupam Kher [Images]) -- and thrown out consiglieri Tommy Hagen, Luca Brasi, Johnny Fontane, some of the most compelling Godfather men. This is a Francis Ford Coppola film, as directed by Joel Schumacher, subtle as a sledgehammer.
Maybe Ramu just wanted to make room for the women, an inexplicable part of the film by themselves. Supriya Pathak is perfect as Amitabh's submissive wife and Kay Kay's helpless mother, but the others, Ramu, why? Katrina Kaif [Images] plays Abhishek's girlfriend, who, promptly disillusioned by his father's lawlessness, weeps a goodbye.
Rukhsar wears a sari and says roughly six words in the film, her role essentially being that of bringing kids into the room with awful timing.
The mother of such inappropriate moments, however, is chosen by Tanishaa to inarticulately proposition Abhishek. Gawd!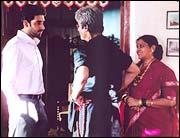 Why on earth is there this fleet of women, in an adaptation of a film where Al Pacino closes the door to his business world, cutting the ladyfolk off from that world forever? The answer is simple, and saddening: In Sarkar, the philosophy is opposite to the line making The Godfather cinema's Bible: For Sarkar, it's not business, it's personal.
Sarkar suffers, horribly, from the increasing obsession with an overwhelming background score. Trying to use audio to carve an aura from time to time is a perfectly good thing, but using chaotic violins -- and, oh God, even sitars -- in a maudlin mush of music aimed at achieving a constant crescendo, well, is not. There's a reason a climax is called thus, and a film cannot be perpetually forced to fake one.
By the time Abhishek is, with peculiar convenience, sprinting up prison stairways, we've already been assaulted by the Govinda [Images] Govinda Govinda theme at least 17 times, and we're tired. This is the point when you look at your watch, wonder why time is dragging so, and wonder whether, as the background theme incessantly chants, you ought not have gone to watch a Chi-Chi film instead.
Because you would have got what you expected. Which is my big bone with Sarkar. It's a decently made film. Technically, Ramu's films seem to get increasingly polished. It's superbly shot, and has a few moments that are applause-worthy. Again, lovers of the Coppola classic are likely to be unforgiving of this film, but, as mentioned, its biggest demerit is its refusal to remain an adaptation. Wasted potential is written all over Sarkar, and a few good frames do not a good movie make. This film, as the opening minutes reveal, had the potential to be Great. It turns out to be passable.
If this was a film made by a first-time director, I'd have smiled and called it a valiant effort. But when Ram Gopal Varma, crafter of Company, calls this his greatest film ever, I can't help but be dejected.