Advertisement
June 18, 2005 16:43 IST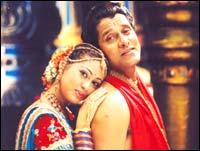 What would an intelligent director, whose last film turned out to be a hideous sleaze-fest that endangered his reputation, do?
He would go back to the drawing board, work on the basics and set the record straight.
Shankar, who went after ace director Barathiraja's record of consecutive hits but messed it up with his sixth film, the horrible Boys, proves why he is so successful.
He went back to the canvas and created a grand movie called Anniyan.
If Gentleman, Indian and Mudhalvan were about a society rife with corruption, Anniyan is about how procrastination is plunging our society into an irredeemable abyss.
| | |
| --- | --- |
| | More on rediff.com ! |
| | |
Starring Vikram, Sadha, Prakash Raj [Images] and Vivek, Anniyan, seen through the eyes of a Brahmin lawyer, asks us to take a look at what procrastination has done to our country.

Ambi (Vikram) is a consumer lawyer. A conformist, he is bugged by almost everything that is happening around him -- from faulty brake cables in his Luna to a landlord who unabashedly flaunts rent control to a brand new car-owner who refuses to help a dying person. The girl-next-door Nandini Krishna (Sadha), for whom he pines, rubs it in and snubs him.

He wants to change things, but can't. Out of his inability to check the rot in the society and win Nandini are born Anniyan, a serial killer, and Remo, a model (both played by Vikram).

From here on, the story branches out. Anniyan goes around executing wrongdoers in the most chilling fashion (how would you like to die? Trampled by buffaloes in a dark creepy cave in the midst of nowhere, fried in a simmering pan of high-fat oil or have all the blood in your well-fed body sucked by underfed leeches) and Remo succeeds in wooing Nandini. What happens next forms the rest of the movie with, of course, Shankar's customary flashback sequence.

It is very clear that Shankar has learnt from the debacle of Boys. He goes back to his strength -- taking a social theme, spicing it up and serving the perfect commercial fare. To make it error-proof, he ropes in one of Tamil cinema's most bankable stars and extracts an impressive performance.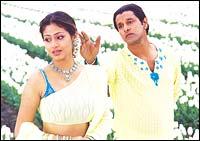 Vikram plays three distinct characters and Ambi is, by far, the best. Vikram is perfect as the meek Brahmin. Only, today, you can go knocking at every door in every street of Triplicane and Mylapore and you still won't find anyone like that.
However hard Vikram might have worked on the brute Anniyan, one is tempted to compare this performance with his National Award-winning portrayal of Sithan in Pithamagan; for all you know, we might never see another such performance from him.
The lesser said about the third character, Remo, the better. Vikram as the so-called model just doesn't go with the flow of the story. To top it all, he puts on a horrible accent!
Sadha, Prakash Raj, Vivek and the other supporting actors do a decent job.
Any director who dares to make a three-hour movie has to ensure the viewer does not get a chance to mentally wander and wonder if the gas regulator knob has been turned off or the airconditioner switched off or the front door of the house latched.
Having a good dialogue-writer is one way to guarantee this. Which is where well-known Tamil author and scriptwriter Sujatha steps in.
By the time they hit the 70-year mark, most writers, intellectuals and intelligent people are in a world of their own; they would not know the price of a litre of milk or who Abhijeet Sawant is. But a genius like Sujatha, who fits into all of the above-mentioned categories, is always rooted in ground realities and has a clear idea of what sells and what doesn't.
The way the characters speak is how Tamil Nadu speaks right now. Hats off to him!
Another thing that keeps the viewer engrossed is good music. Thus far, A R Rahman has shouldered that responsibility in all of Shankar's films. In Anniyan, the director teams up with Harris Jayaraj for the first time. Jayaraj doesn't disappoint, but while ARR wafted and lingered, Jayaraj explodes and fizzles away.
Kumaari and Iyengar veetu azhage try to seep into your head and Randakka tempts you to tap your feet. But only momentarily. You can click refresh and ctrl+alt+del your memory all you want, but you won't recollect them once the songs are over.
Sabu Cyril's sets are grandiose and extravagant but do not hurt the eyes. Manikandan's camerawork is brilliant.
The stunts, though well choreographed, would look more in place in a supernatural film. Peter Heynes would have certainly done a better job had he been allowed to be his own self. I have a humble request to make to him, and to any other stunt director who would care to listen: Matrix was a sci-fi movie. The gravity-defying stunts are therefore justified. Please be 'inspired' by it only, repeat, only while working in that kind of a film.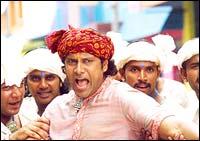 In the end of it, the pain from the blow of Boys is evident in every single frame. Shankar has sculpted this one.
Handling a medical concept like Multiple Personality Disorder while ensuring the broader social theme is not diluted comes with its own risks.
Shankar tries to explain MPD in the simplest of terms. And succeeds to a certain extent.
Any viewer who has had the chance to read a book like, say, Sidney Sheldon's Tell Me Your Dreams will feel the concept of MPD has been trivialised. But a huge chunk of viewers who are not that well informed might not even comprehend what is being said.
So, has Shankar gauged the audience? You decide.