Advertisement
June 10, 2005 10:22 IST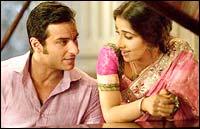 Parineeta is a beautiful story, beautifully told. It approximates what most of us expect, and increasingly yearn for in vain, in our cinematic experience.

When a film has a literary classic as its source material, the basics, at least, are in place. The filmmaker is assured of a subject that has resonated with legions of audiences. But, at the same time, he is faced with the cinematic challenge of distilling emotions expressed in fine print onto the screen.

Pradeep Sarkar manages to do that. And how! He has taken the liberty of shifting the setting of his directorial debut, Parineeta [Images], from novelist Saratchandra Chatterjee's Kolkata of 1913 to the Kolkata of the 1960s (which may make literary critics and purists balk). But he lives up to the challenge of unfurling the pages of the classic as vivid visuals on screen, without blunting the emotional subtleties of its story and characters.
Happily, Parineeta emerges as an era-evoking love story which captures the eye -- and the mind -- through three complex characters for who, most importantly, we come to care deeply for.
| | |
| --- | --- |
| | More on rediff.com! |
| | |
Saratchandra seemed to have an affinity for heroes in the Devdas mould. Shekhar (Saif), like Devdas, is an intense lover, who is also father-dominated, hot-headed, pampered, possessive and contentious. When he can't have his way, he loses sight of all reason.

But he is also palpably in love with Lolita. And this love ricochets between them even when Shekhar is being carried away by a flood of recriminatory emotions.

Lolita (Vidya Balan [Images]) is an orphan and Shekhar's childhood friend cum neighbour. Like Paro in Devdas, she walks the tightrope between egotism and self-respect. She is a giver but is not servile. She is the parineeta (married woman) who wants her husband to claim her, she won't stake her right as his wife.

Girish (Sanjay Dutt [Images]), a big-hearted London-returned bachelor, like Shekhar, loves Lolita. But unlike Shekhar, he is calm and practical.

The lives of these three protagonists crisscross, time and again, because of the machinations of Shekhar's covetous father Navin Rai. Desirous of moving up the social hierarchy, he is keen to usurp Lolita's uncle's property and build a magnificent hotel over it.

But Girish bails out Lolita's uncle. Infuriated at the snub, Navin Rai engineers a rift between Shekhar and Lolita, whom he dismisses as a 'whore.' His trump card -- Girish's unspoken love for Lolita. A jealous Shekhar abandons his beloved music and Lolita, and agrees to a matrimony with Gayatri Tantia (Dia Mirza [Images]), the daughter of his father's business associate.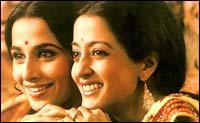 The complexities of the characters are elicited in simple but interesting ways. Shekhar's irritation at Lolita for missing his recording is not mitigated when he is reminded that he has not even informed her about it. The rivalry between Shekhar and Girish peeks through when Shekhar intercepts a Luchi-serving Girish on the pretext that they are cold and orders a fresh batch of hot Luchis.

The two love stories destined to end on diametrically different notes are threaded with tenderness reminiscent of its times, making for a sprightly exposition to the drama. 

While a black-out, a burnt cake, a game of cards, a planchette bluff and a puja dance serve as the mosaic for Lolita and Girish's one-sided love story, Shekhar's bedroom and his cupboard (Lolita's personal ATM) forms the setting for Lolita and Shekhar's tumultuous relationship.

Interestingly, while a great deal of money and effort is lavished on recreating Kolkata of the 1960s, the dialogues are sparse, albeit spicy. The brisk pacing leaves no room for ennui but I missed some quieter moments which could have enhanced the appeal of the film. 

The gentle flow of this film is rudely interrupted by the climax, in which Shekhar physically breaks the wall dividing the houses of the two families. If it was to serve as a metaphor for his breaking the barriers within the two neighbouring families, it is too literal and overstated.

Vidya Balan could have walked through her role without the aid of dialogue -- she has speaking eyes. The girl has range: her eyes flare up like headlights at night when she is angry and are suffused with indulgent softness when she is interacting with Saif. She channels Lolita's reedy resilience.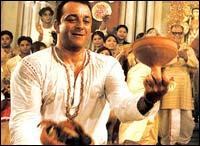 Saif's willingness to undermine his heroism -- he is palpably jealous and insanely insecure, a picture of stubborn rage -- elevates his performance. It's the best in his career so far.

In a smaller but nonetheless pivotal role, Sanjay Dutt displays quiet authority. Rekha [Images], dressed in a figure-hugging maroon sari and winsome curlicues, lives the cameo of a seasoned club singer who (s)pouts philosophy.

The songs nurture the story rather than encumber its telling. For instance, Dhinak Dhin Dha, a robust wedding geet, draws our attention to the unrest within Saif's heart. Sonu Nigam's [Images] cry from the heart, Soona Mann Ka Aangan and his breezy Piyu Bole showcase composer Shanatanu Moitra's musical talent, while Raat Hamari Toh is a triumph for lyricist Swananad.

I find many a recent Hindi film difficult to sit through even once, and rarely see any film twice. But I am willing to watch Parineeta again, and, what's more, pay for my ticket too.