Advertisement
June 10, 2005 18:31 IST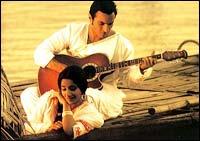 First, the baggage. The only Sarat Chandra Chatterjee works I have read are Ramer Sumoti -- about how a boy who is a complete nuisance becomes responsible, a story my mother insisted I read -- and Mahesh, about a farmer and his cow, which I read on my own in class III and cried buckets over.
What struck me was the starkness of the stories, the simplicity of it all -- something that debutant director Pradeep Sarkar's 'adaptation' of Parineeta [Images] steamrolls with its shafts of light and a Kolkata permanently bathed in a Ray Ban afterglow.
I guess a period film is Bollywood's way of justifying the opulence and the melodrama that are to it what water is to fish.
So, as Amitabh Bachchan's [Images] baritone booms about Calcutta -- as it was called then -- of the late 1960s, you catch your first and last glimpse of the city. You are suddenly transported to a very un-Bengali shaadi sangeet, arguably the most irritating song you will hear in a while.
| | |
| --- | --- |
| | More on rediff.com! |
| | |
And you realise this is just a masala film, despite the attempts at Satyajit Ray's Charulata-esque woman on the swing shots and Tagore's song Fule Fule Dhole Dhole rearranged to saccharine sweetness.

 

Shekhar (Saif) is getting married to a rich businessman's daughter Gayatri Tantia (Dia Mirza [Images]). But his heart is away, with Lolita (Vidya Balan [Images]) -- his neighbour and childhood love.

 

The rest of the movie is a flashback music video about Shekhar and Lolita's unspoken love and his father (Bengali actor Sabyasachi Chakraborty) Navin Rai's greed, which tears the lovers apart.

 

Navin wants Lolita's uncle Gurucharan's mansion. Gurucharan, whose fortunes are on the downturn, has mortgaged the house to Navin. The mortgage is eventually paid by Lolita's neighbour's brother Girish (Sanjay Dutt [Images]), who has fallen for Lolita.

 

Plotted misunderstandings follow and Shekhar, convinced Lolita has sold herself to Girish, agrees to marry his father's business partner's daughter. There is a climax that is even more exaggerated and loud than the movie overall -- quite an achievement.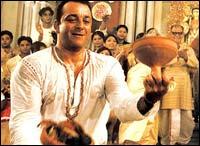 There is careful detailing -- windowpanes that remind you of old bonedi (traditionally rich) Calcutta mansions -- but it is all to make every frame too picturesque. Saif Ali Khan [Images] sports a guitar model that was not invented in the period the film is set it. Everybody wears designer clothes. Every shot is eye candy. Hallways are lit with candles even though there is electricity. The grand piano props up the mortal remains of grandeur as windswept curtains try to coax unrest.
Everybody suitably overacts. Vidya Balan coos, Raima Sen [Images] (who plays Koel, Lolita's sister) plays the precocious saheli and Sanjay Dutt shows us what Munnabhai [Images] would do in designer punjabis (that's Bong for kurta).
But despite the songs, the Austin cars and the Rekha [Images] nightclub cameo, you do not get a sense of the place. The only times I felt a pang of nostalgia for a city I yearn to go back to was when the dhakis played to a dhunuchi-dancing Sanjay Dutt and when the Siliguri-Darjeeling toy train meandered up hills that were my doors of perception.
Nor do you feel for the characters. Only Sabyasachi -- a fine actor in his own right -- Saif, and some Bengali actors, who put in nice cameos, impress. The cool dude from Dil Chahta Hai [Images] is convincing as the quintessential Sarat Chandra man -- weak (remember a man who drunk himself to death for a girl?). 
The music, which is the film's crutch, is catchy. But there is no sound of LP scratches, something that could have evoked an era gone by much more than Yanni-esque piano trills. I felt there were too many songs.
All great art hides technique. Be it a Charlie Parker solo or a Picasso painting. It does something to you, changes you from within, somehow. Parineeta leaves you cold and only appreciative of the forced beauty and technique. There are fleeting moments -- like when Shekhar comes home from office to order his servant to take his coat, a mirror image of his Merchant of Venice father, symbolising he has killed his artist self -- but otherwise there is no epiphany. No take-home.
Parineeta is just a well-made music video. It might become a very big hit -- I have seldom seen so many people on a first day first show -- but it fails to be real, to move, to touch.