Advertisement
June 07, 2005 12:42 IST
Last Updated: June 07, 2005 15:02 IST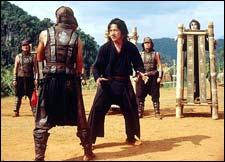 A chance encounter with Hollywood actor Jackie Chan [Images] has changed the life of Kerala's [Images] popular martial arts exponent, G Sathyanarayanan.

Last year, Chan happened to see a CD the Kerala Tourism Department sent him, requesting him to be the brand ambassador of its tourism initiatives.

Kerala Tourism could not get Chan, but Sathyanarayanan -- who performed the traditional Kerala martial art Kalaripayattu in the CD -- impressed Chan so much that the superstar invited him to be part of his new film.

Sathyanarayanan flew to Shanghai for a 30-day shoot with Chan for The Myth; the film includes Tony Leung Ka Fai, Bollywood actress Mallika Sherawat [Images] and television actor Sudhanshu Pandey.

Since then, Sathyanarayanan has not looked back. "I am getting a number of offers from Hollywood. All because of Jackie Chan only," he told rediff.com.

According to Sathyanarayanan, a leading US filmmaker has offered him a key role as a martial arts fighter in a forthcoming, untitled film. "It is a great chance for me to work in Hollywood and present our traditional Kalaripayattu. I am taking this rich cultural art to Hollywood," he said.


| | |
| --- | --- |
| | More on rediff.com! |
| | |
Sathyanarayanan refused to divulge the details of the Hollywood film. "All I can say is that I have got a good role in it because the film is basically based on martial arts. The world will now see a lot of Kalaripayattu through the film," he said.

He said he has received enquiries from a few other film companies abroad about his expertise in Kalaripayattu. "It is all because of my Jackie Chan connection. You know, in the Jackie Chan film, I had a one-to-one fight sequence with him. He is simply superb," Sathyanarayanan said.

The Myth was earlier named Project So4.

Sathyanarayanan said the film is set in an imaginary country called Sadai between China and India. "I play the role of the prince of Sadai," he said.

Recently, the production team of The Myth contacted Satyanarayanan for more inputs on Kalaripayattu scenes. "Some of the dialogues of the film are in Malayalam. They wanted those to be translated for the English version of the film," he said.

And when is Satyanarayanan going to the US for his next film?

"Soon, I believe," he says.

Sathyanarayanan is the eldest son of Govindankutty Nair Gurukkal, who founded Kerala's most famous Kalaraipayattu school: C V N Kalari.

In the past, fighters from C V N Kalari have performed in several Asian countries like Japan [Images] as well as in Europe as part of the Indian government's cultural exchange programmes.

Kalarippayattu, considered to be the mother of all martial art forms, is a priceless asset to Kerala's heritage. An intricate blend of physical prowess, mindset, martial techniques and indigenous medical system, this form of armed, close quarter, hand-to-hand combat is unique to Kerala.

"It is a great feeling that Kalaripayattu is becoming a well-known martial art across the world. Now, foreign films are coming to endorse our great fighting skills," said Sathyanarayanan.