Advertisement
June 03, 2005 16:56 IST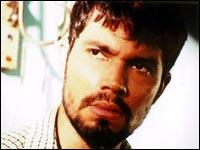 It's not everyday you see Ishaa Koppikar doing dishes. It's not everyday you see the street in front of your house in a movie, and recognise it. It's not everyday a gangster in a Bollywood movie looks cool. And it's not everyday in an autorickshaw after a film show, you feel the movie is still on.
Ram Gopal Varma's Factory production D does that to you.
Randeep Hooda is Deshu, an average, brooding, smoking young man with a Zippo lighter -- probably because he has returned from Dubai -- whose father is a police constable and whose mother has just passed away. His life changes when Bhai ke aadmi -- the Mumbai phrase for mafia men -- kill a man in front of him in their cheek by jowl chawl.
Deshu is threatened by the local police inspector, who wants him to identify the killers, and the Bhai, Maangli. The seldom-spoken Deshu keeps his trap shut during the identification parade, and chooses a police pounding to a Bhai bullet.
| | |
| --- | --- |
| | More on rediff.com! |
| | |
He approaches Hashim (Goga Kapur), the rival Bhai, and promises to kill Maangli if he is given a place in Hashim's gang.

 

'I don't believe in luck,' Deshu says when Hashim tells him of the key factor in a gangster's career. In the good old days, there would have been coins or cola bottle caps chucked in heaps at Randeep Hooda.

 

He kills Maangli, one of the few hard-to-believe sequences, and wins Hashim's trust. Thereafter, he rises in the gang, eclipsing Hashim's two sons Mukarram (Sushant Singh) and Shabbir (Yashpal Sharma). He advises Hashim on which politician to back, where to expand the business, hires his own men and chooses Raghav (Chunky Pandey [Images]) as his trusted deputy.

 

Also, he beats up an actress-pawing steroid-bicep movie star, and gets involved with the actress (Rukhsar) the hero was trying to paw.

 

Mukarram and Shabbir, upset over Deshu's phenomenal success, plot against him and try to get him killed. When things come to a head, Hashim gives Deshu charge of Gujarat, while the brothers make merry in Mumbai. But Deshu shines in Gujarat, and the jealous brothers tell an increasingly senile Hashim that Deshu has been cheating, and has bought his moll a bungalow from money earned he never disclosed. Hashim gives his sons the free hand they were thirsting for. They kill Raghav and his former bar dancer wife (Koppikar) and try to get Deshu. He escapes.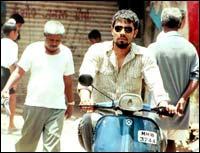 The Gujarat gangster Gangaram (Jeeva) tries to broker peace between Deshu and Hashim and co. What happens at the peace table is probably the climax, so it's better you watch it on screen.
The film is supposedly based on Dawood Ibrahim's [Images] life. Since my only brush with the underworld was when after lunch at a hole in the wall eatery in Mumbai's Andheri East, an acquaintance stayed back to chat with the owner, claiming the guy was a Bhai ka aadmi, I can only say the original Mr D and Deshu wear the same kind of sunglasses.
I have not seen Company, and to me, debutant director Vishram Sawant's film seemed unapologetic, stark. It dives deep into the underworld, which exists rather like the muggle world in Harry Potter [Images] books -- right under our noses, away from the eye.
There are enough minus points. The movie opens with a rather silly narrative and ends with another. It drags a little after the interval, when you feel songs have been injected to give the film some spice and frontbencher appeal. It completely ignores the law, with police encounter specialists only appearing as hit men of gangsters who buy them off.
But Randeep Hooda is star material, as long as he does not shave his stubble. His voice reminds you of another angry young man who was advised to work for radio instead of films in the late 1960s. You will remember the cold, teetotaller gangster Deshu, who wears a torn vest in bed with his filmstar pastime. And his penchant for torturing the people he hates most by not doing anything to them: So that they are forever on the edge, thinking about when he is about to strike.
The music adds to the movie, taking off just when the dialogues totter on the verge of becoming dragging. Rukhsar adds much needed eye candy to a film strewn with beer bottles, cigarettes, guns and blood. But the best part of the film is its cast, with a number of realistic cameos. 
D is not a 'moral' film. I don't know if it's a biopic or a prequel. To me, it was just nice cinema.
Download D Ring tones and more!