Advertisement
July 25, 2005 19:05 IST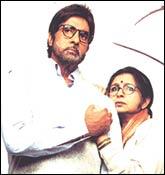 You know Viruddh [Images] has you hooked completely -- and it has only Amitabh Bachchan to blame for it -- when the characters in this domesticated drama about the joy and trauma of a middle class family, begin to matter to the audience.
So much so that by the time the second dramatic and occasionaly tragic half begins, you want to turn the clock back, and tell the strorywriters to please keep the unhappiness out of this feelgood drama.
But joylessness is a predominant objective in films about domestic harmony. In Mahesh Bhatt's [Images] celebrated Saraansh, a  Maharashtrian patriarch fought back his tears and fears when his son was killed in a random incident.
In Viruddh, Amitabh towers above everyone and everything, including the occasionally-staccato script, to deliver a bludgeoning performance as Vidyadhar Patwardhan, a retired man content with squabbling with his domineering wife (Sharmila Tagore) and the weekly call to their only son (John Abraham) in London [Images].
Review: Big B rocks in Viruddh
Once Abraham arrives with a half-foreign girlfriend (Anusha Dandekar), the film makes you even more aggressively a part of its idyllic scenario.
Not only with his wife and son, but even the rapport Vidyadhar gradually establishes with the Muslim car mechanic (Sanjay Dutt [Images]) is done in theatrical reality; never mind the over-punctuated scene ends, camera movements that suggest Hindi cinema's close affinity to Marathi theatre and the appalling background music.
Viruddh still makes a powerful statement on familial values. Director Mahesh Manjrekar punctuates his narrative with details from daily life. These might not be as sharply etched as they are in Ram Gopal Varma's Sarkar but Viruddh captures the rhythms of everyday life with a fair degree of conviction and far less flamboyantly than Baghban.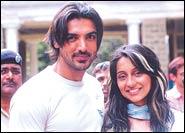 Things start to go wrong after the son's murder, and not just for the Patwardans. The entire game with hypocritical politicians and corrupt cops is mired in artifice. You wish Manjrekar had kept the contrivances at a hand's distance in a film which, in its best moments, echoes the very essence of life.
By the time Vidyadhar takes to the gun for self-justice, you are squirming in your seat at the compromises that the script imposes on the protagonist. Vidyadhar's critical sequence with his son's powerfully-placed killer in the latter's office is so clumsily weighed against the  adversary, so consciously designed to spotlight the tyranny of villainy that you wonder why Manjrekar allowed his tale to lapse from lyricism to theatricality.
The film's leading man lights up the blind spots in the narrative with candour and credibility. There seems to be no end to the surprises that Amitabh offers in a part that has been done to death by many from Dilip Kumar [Images] in Mashaal to Anupam Kher  in Saraansh.
As played by Bachchan, Vidyadhar Patwardhan is cranky and cool, petulant and passionate, adamant and accommodating. There are many episodes where the actor goes beyond the script and the cues provided by his co-stars.
But surprisingly, Bachchan's onscreen rapport with screen son John Abraham [Images], daughter-in-law Anusha, the friendly car mechanic Sanjay Dutt and cop Sachin Khedeker (giving a fine performance as the cop caught in a terrible dilemma of morality and power play) is far more agreeable than his tuning with his screen wife, Sharmila.
You miss that spousal succour and erotic bantering with Hema Malini in Baghban or even the quiet flow of empathy with Supriya Pathak in Sarkar. You also miss that evened-out tone and structure that separates the great works from the also-rans. But there's plenty of warmth in the storytelling, peppered with cutely colloquial conversations that seem to be straight of your neighbour's drawing room.
The scene when Vidyadhar tries to join the laughter club after his life falls apart, stay with us, as does John Abraham's heart-warming take as the narrator. It's the fleshing out that gets weak at times.