Advertisement
January 28, 2005 20:15 IST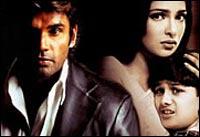 In this day of in-your-face publicity, Blackmail has garnered little or no notice. Which, in itself, is surprising. It becomes even more surprising when one considers the film's cast -- Suniel Shetty [Images], Ajay Devgan [Images], Priyanka Chopra [Images] and Dia Mirza [Images].
Blackmail opens with ACP Abhay Singh Rathore (Suneil Shetty) marrying Sana (Priyanka Chopra). Cut to Shekhar R Mohan (Ajay Devgan), a jailbird who is plagued by nightmares and an unnatural interest in Rathore.
Also involved in this mix is the villainous Don (Mukesh Rishi), who rules the jail.
Rathore, in true Bollywood good cop style, busts Don's brother, shoots him dead and returns to his loving family which now includes son Chirag.
So Don seeks revenge on the ACP's family.
When Sana is conveniently out, mobsters attack Rathore's home. Rathore, who is protected by one thoroughly incompetent havaldar, saves his son and kills the attackers single-handed.
He then storms to the jail and warn Don to keep away from his family. But Don, archetypical villain that he is, refuses to be deterred in his quest to destroy the Rathore family.
Who better to do the dirty work than Shekhar, who is due to be released from jail?
Shekhar falls in happily with the plan; as mentioned earlier, he has an unnamed grudge against Rathore. Helping Shekhar in his nefarious intentions is the Don's surviving brother, John.
Shekhar begins haunting Rathore's home.
At other times, he drops in at Chiraj's school.
He even speaks to Rathore on Sana's cell phone.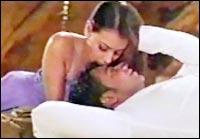 At some point, Shekhar decides he needs a break from all this hectic activity and goes to find solace at the church where he first met his late wife, Anjali (Dia Mirza). Which is where his comes to know he has a child and only Rathore knows where the child is.
What happens next is the climax. Which, of course, includes the answers to the following questions: Does Shekhar find his child? Does good triumph over evil?
Shetty seems momentarily hung over from his role in Rakht. In Blackmail, he does everything from slide to roll to fly through the roof.
The film has its plus points -- including great special effects (even if we have seen it all before), a fast-paced, masala story line and Superman as Suniel Shetty.
It also has its drawbacks.
Like havaldars who conveniently drop dead ever time Shekhar wants to terrorise Rathore.
Anyone with half a brain would change both their locks and their protectors after their house was broken into. Not Rathore.
Priyanka has three tasks in the film. She has to look beautiful. She has to tempt Rathore with a sultry come-hither dance. She has to spouts tears and wail, "Chirag kahan hai [Where is Chirag]?" at appropriate intervals. She does all three competently.
The fast-paced script would have been even more impressive if the storyline was original.
Blackmail's storyline is as old as Indian cinema itself. A throwback to times when no one cared if you took someone else's kid and brought him up as your own, Remember the Amitabh Bachchan [Images] starrer, Parvarish?
Ajay Devgan's performance is strictly okay, nothing to write home about.
Blackmail, in case I have still not spelt it out, is very, very predictable. Yet, the film is enjoyable, thanks to its fast-paced action. Which is what makes it better than many movies running today.