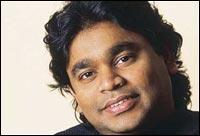 Working with Subhash Ghai is always challenging, says Alla Rakha Rahman with a chuckle but could things be more assured?" he wonders.
Rahman has two songs, the theme score and several musical interludes in the new Ghai film, Kisna, leaving half a dozen numbers, including the title song, to composer Ismail Darbar (Devdas).
"From the time I began working with Ghai five years ago, there have always been surprises and changes," Rahman says, explaining he was not really expected to compose for Kisna. "Many years ago we began working on a film called Shikast. But he shelved it and we began afresh with Taal," Rahman continues. "Then I was to work on Yaadein but I could not find time for it because I was busy with Bombay Dreams (the stage musical)."
There were a few stories following the release of Taal, suggesting a clash between Ghai and Rahman, and that they would never work together.
| | |
| --- | --- |
| | More on rediff.com! |
| | |
But there was Ghai at the London premiere of Bombay Dreams about three years ago, sharing his pride with some Indian producers and reporters that some of the songs from Taal had been reworked for the Andrew Lloyd Webber produced musical.

Once Bombay Dreams opened in London, Rahman and Ghai began working on a film called Motherland. "I had composed five numbers for that film after many musical sittings with Ghai," Rahman reveals, "but that got shelved too."

Just as Rahman was getting busy with a new London musical, The Lord Of The Rings, and revising the music of the Broadway-bound Bombay Dreams, Ghai announced a project called Kisna. And, he wanted Rahman to compose the music for it.

"I had no time for the new project," Rahman says. "I don't like to do things halfway or half-heartedly. I needed to have long discussions with Ghai before I could compose the music. I want to sit with my directors before composing a tune and discuss the scene with them in depth."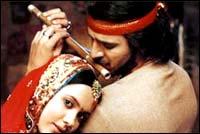 When Ghai saw the time crunch Rahman was facing, he asked Rahman to compose the theme music at least.
"When he heard the theme music, he said he loved it and wanted me to have a vocal recorded," Rahman laughs. "I could not say no."
Since Rahman already had the tune, it took him to less than three hours to record the song in the voices of Udit Narayan and Madhusree. "I enjoy composing songs that are soft," Rahman says. "And this is one of those songs I love for that reason. Often producers put pressure on me to compose fast music whether the situation in the film demands or not. But with Ghai and a few other directors like him, I can compose the music I love."
Soon, Ghai was asking Rahman to compose melodies for the background score, and then he requested an English song.
"I am glad I somehow made time to compose the songs, especially the Pal number," Rahman says, adding that it has caught on fast, vindicating his faith in Madhusree.
"I am glad she is getting due recognition," he continues. "There are times things take their own time to click. There are many singers who got their break with me but for some reasons, the songs did not become popular and they had to wait for another break," he adds. "This has been the case with Madhusree, too."
Rahman recalled how Sukhwindra Singh sang his first song for him in a Tamil film. "People do not know it was a Tamil song that started Sukhwindra's career," he says. "Chaiyya Chaiyya was the next song we recorded."
Similarly, Sadhana Sargam has been singing for him in many films like Earth. "But she did not have a big hit till Saathiya became a hit," Rahman says. "She had a number of hits in Tamil films but in Hindi films, she had to wait for a long time."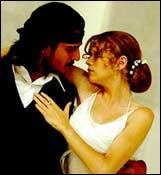 She sang a haunting lullaby, Aahista, Aahista with Udit Narayan in Swades but the song was deleted from the film. Rahman concedes it wasn't easy for him to part with the number. "But then, the reality was different," he says. "The film was already long and the song was slowing down the film. We did not want people to walk out during the song. It would have been worse than cutting the song out. But the song will be there in video cassettes."
Like many of the new singers he had worked with, Madhusree came to him through his friend Brij Bhushan in Mumbai. "He sends me the tapes of promising singers from time to time," Rahman reveals, adding that he came to know singers like Mahalakshmi through Brij Bhushan. "And among those tapes, there was this mellow voice, and the singer was Sujata Bhattacharya," he adds. "I used her voice in Tehzeeb , but the music went largely unnoticed." She sang three numbers including Mujhpe Toofan Uthaye for the film.
Then the singer wanted to change her professional name. "I thought it was a good decision too," Rahman laughs again. "There are many Sujata's around…So I suggested her new name."
Madhusree also sang a lilting number Pal Pal Hai Bhari in Swades. "But quite a bit of my music in that film has not been appreciated," Rahman sighs. "With the more discriminating audiences the songs have clicked but with the listeners at large only a couple of songs such as Yunhi Chala Chal and Yeh Tara Woh Tara have become popular. So I am very happy with the success of the Kisna song that Madhusree has sung."
The number My Wish Comes True in Kisna is sung by another relatively new singer, Sunitha Sarathy. Rahman thinks she too has a bright future. "She had sung a few film songs," he says. "But she got more involved doing the jingles. When she showed interest in singing film songs, I decided to sign her on."
Contrary to some reports, Rahman says Ismail Darbar and he did not collaborate on the music in Kisna.
"We worked independently," he chuckles. "If for nothing else, for want of time, we had to work separately. But as part of the background score, I had to use snatches of the title song that he had composed."
He is quick to admire Darbar's score, saying that he is pleased to share the credits on the film with the Mumbai composer. "He has composed very many good songs," Rahman continues. "But here, his music is the strongest of his career. Here is the music any composer has to feel proud of."