Advertisement
January 07, 2005 14:04 IST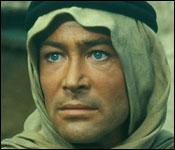 Tom Alter, Bollywood's very own angrez (he is of American origin, actually), got the chance of a lifetime in December. He plays King Saul opposite (Lawrence Of Arabia)Peter O'Toole's Samuel in One Night With The King, a film shot in Rajasthan.
Alter, who has idolised O'Toole ever since he first saw Lawrence Of Arabia as a child, could not help telling the legendary star that he'd seen it thrice in one week -- at the age of 13!
O'Toole, with disarming modesty, responded "Why, I don't think I've seen it three times myself!"
What impressed Alter was the fact that without seeming to, O'Toole put the younger actor at ease by casually chatting with him for almost four hours before they shot the first scene. This was because the sensitive actor realised that Tom was too much in awe of him to be able to perform at an optimum level.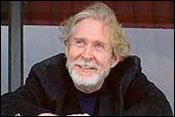 And what did they chat about? "Waiting For Godot," revealed Alter, speaking of the Samuel Beckett play in which Tom had acted alongside Naseeruddin Shah [Images] several years ago.
As soon as Tom mentioned the play, O'Toole started reciting excerpts from memory. Alter was taken aback by his vocal performance. "The way he said the lines was sheer poetry," gushed Alter. "Naseer was superb in it, but the way O'Toole used the language to express the words taught me something!"
As if that wasn't enough, when Tom was performing, O'Toole stood aside to cue him, saying: 'I am bad at remembering lines so I am going to read them out to you.'
Indian actors are repeatedly impressed by their counterparts' discipline in being personally present to cue their costars, a practise alien to the Hindi film industry where stars give their own takes. Of course, Alter was humbled that his idol should take the trouble.
Tom is rightfully unable to forget the entire experience which taught him what discipline and hard work are all about. At the end of it, O' Toole simply declared: 'Tom, you are good!'
And Tom Alter's cup runneth over.