Advertisement
January 07, 2005 12:34 IST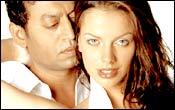 M

ahesh Bhatt calls him the next Naseeruddin Shah [Images] of Bollywood. But Irrfan humbly says he has a lot to achieve in Bollywood yet.

After doing critically acclaimed roles in Haasil and Maqbool, Irrfan is upbeat about his new film Rog, that will release on January 7.

"I play a police officer, investigating a murder case. But he gets personal in the case, and that goes against the case. You can call it a love story, but of a very different kind. It is not a boy-meets-a-girl-and-falls-in-love story," Irrfan explains.

Would he be comfortable doing Shah Rukh Khan [Images] kind of romantic candyfloss films? Irrfan counters, "Shah Rukh Khan cannot do a Nana Patekar [Images] film and vice versa. It is not right to generalise. Every man has his own romantic style. Every actor has his own individuality. I cannot do what other heroes do. Maqbool was a romantic story and so is Rog. But I play different roles. The media has to come up with certain idioms and they create these phrases."
| | |
| --- | --- |
| | More on rediff.com! |
| | |
The actor says he does not have too many scenes with South African model Ilene Hamann, who makes her Bollywood debut in Rog. "I deal with her at a much later stage," he elaborates. "Being a foreigner, Ilene was an asset. She was good because she tried to learn as much Hindi as possible on the sets."

Recalling his struggling days, Irrfan says, "When I entered the film industry, my motto was to act. I wanted to be an actor. Mithun Chakraborty, Dilip Kumar [Images], Naseeruddin Shah and Amitabh Bachchan [Images] inspired me. I would imitate them. But later, I realised that it (imitation) would not work for me in the long run. I gradually understood that I was an individual actor and had to find my own identity."

Any humiliating experiences as a 'struggling' actor? Irrfan replies, "It is very difficult to prove yourself in this industry. You always fall in a trap and feel that you will not be able to come out of it. You feel bad when someone new enters the industry and makes it big. You see them getting established and you are nowhere. The waiting period tires you. I, too, felt tired but never frustrated."

The actor continues candidly that people did not pay him at times for his films. "They used to say, 'Kaam achcha nahi tha isliye paise nahi denge' (your work was not good, so you will not get paid). Taking money is always a struggle in this industry!" he exclaims.

But he says he was never out of work when he landed in Mumbai. "There are fears of insecurity but it does not take much of my space. My kitchen fire is burning and I don't have to complain 'paisa nahi hai yaar kya hoga' (I have no money what will happen to me.)"

"Everybody must know their strengths," he adds. "You have to discover yourself and work accordingly. My passion was to learn acting and I did that. Fortunately, things are looking up for me now."

Irrfan claims that his most satisfying role so far is Haasil. "That film made me. Earlier, people talked about me but I was not noticed. Haasil made me big. After that was Maqbool. Both films have increased my brand value."

His only disappointment in recent times was when Charas flopped. "I don't know what went wrong in the film," he says.