Home > Movies > First Look

Aamir like you've never seen!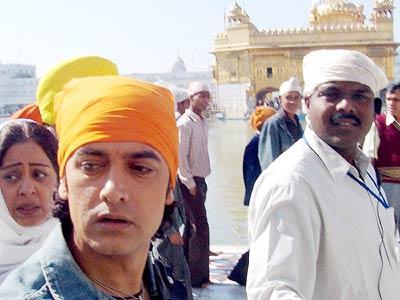 Aamir Khan has shorn off his locks, and everyone has seen the new funky hairstyle, but here's the actor in yet another avatar.
Frankly, the cleanest we've seen him look in a long while!
The diminutive superstar is hard at work on his next film, Rang De Basanti, directed by Rakesh Mehra, of Aks fame.
Aamir's heroine in the movie will be Soha Ali Khan.
This photograph is during the film's shooting in Amritsar. The Golden Temple can be seen in the background.
Actress Kirron Kher (left) also stars in the film.
Photograph: Ranjit Singh/Saab Press


What do you think about the story?








Read what others have to say:





Number of User Comments: 16








Sub: To wish Aamir Happy Bithday.

Hi Aamir,this is Sunita wishing you a very happy birthday.May all your dreams come true .You are a fine and awesome actor.I love you very ...


Posted by Sunita Sharma









Sub: The Biggest Fan in the World of Aamir Khan From Pakistan

I am the biggest fan of Aamir Khan from Pakistan. I love his acting specially in " Lagaan " and " Dil Chahta Hai ". ...


Posted by Awais









Sub: Aamir is gr8 !!!

Aamir for me is a legend!!! Lots of new actors and new faces just fade away like passing clouds but he is the only one ...


Posted by Selvi









Sub: Aamir

After Amitabh only Aamir is most natural Actor equally Accecpted by ALL


Posted by Piyush









Sub: Aamir is ''THE'' best

whither amitabh bachan or srk aamir is the best in business


Posted by Sukhdeep Jhajj






Disclaimer