Advertisement
February 22, 2005


Y

et another controversy hits Bollywood, in the form of Vinod Pande's bold film, Sins. Christian groups have demanded a ban on the film, as it shows a sexual relationship between a Catholic priest and a much younger woman.

Christian organisations say they will demonstrate in front of theatres screening the film. Some groups have already started collecting signatures to support the demand for a ban. The movie is scheduled for release on February 25.

Pande explains his film to Subhash K Jha.
| | |
| --- | --- |
| | More on rediff.com! |
| | |
Why this hue and cry over your new film?

My cinema is never free of controversy. The most annoying thing is that a section of the Christian community has objected to Sins without seeing a single frame! If they watched the film, they would know it is a sensitive and touching tale. It is a bold film but it is neither cheesy nor sleazy, I promise you.

Some of the stills and promos are provocative.

The original promos were soft. We revised that in keeping with the film which is bold, though not titillating.

Yashraj Films is marketing Sins, is a departure from their routine cinema.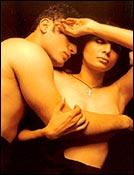 I knew I had to work within a restricted budget because the film is in English, starring newcomers Shiny Ahuja and Seema Rahmani. Both are brilliant actors. Seema is from Los Angeles and Shiny is from Delhi. I had given myself a budget of Rs 10 million.
I went to Yash Chopra [Images] to seek his advice and I narrated the story. Ten days later, he told me his son Aditya loved the script. That's how they became the film's worldwide controllers.
Why is the film in English?
I designed it in that language. The non-English speaking audience may misconstrue the bold scenes. Sins IS bold. You'll see a lot more nudity on screen, and parts of the anatomy never seen before. But they are aesthetically beautiful scenes.
In our films, even clothed characters are made to look suggestive and vulgar. I took the film to the Censor Appellate Tribunal where, strangely, the two members who gave a judgement in my film's favour were women. The one who spoke against my film was a man.
When the censors were so liberal with Sins, why did you have to go to the Censor Appellate Tribunal?
There was a shot of a nude back when the heroine gets up from bed. I couldn't remove it for technical reasons. If removed, the sequence would look jumpy. The moment comes at a crucial point in the narrative when we accentuate her loneliness and anxieties as a woman in a forbidden relationship.
How do you intend to tackle the ire of the Christian community?
In my serial Reporter for national television (Doordarshan), I had a six-part story about the underhand dealings in a religious mutt, no one spoke out. So why now? Isn't this fascism? Such intolerance for creative work is not acceptable.
I had done another story on Punjabi extremism. Sardars were up in arms! But I refused to give in to their demands.
I am responsible only to my producers. I hate to point this out, but haven't people seen my earlier work? A boy-meets-girl story has never interested me. In my first film, Ek Baar Phir, three decades ago, the wife walked out on her husband without apology. My films are always about the pain and ecstasy of forbidden love. But I have never gone beyond my aesthetic boundaries.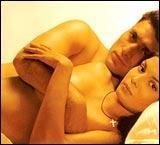 Isn't there a fear of outrage against the film's theme?
Even the Christian community won't be unhappy with Sins when it releases this week. Seen in the correct perspective, it is a very tragic and sensitive story. The priest's conscientious downfall is the film's crux, not blasphemy or titillation. My film talks about the eternal battle between Christ and Satan.
And yet, Sins might be clubbed with other sex films.
This is my main worry. The promos have been interpreted to mean Sins is a sex film. I was scared of this but I had no choice. A channel took the tapes of my promos, selected the nude bits and interspersed them with similar visuals from Murder etc. I was very upset. If you see my full promotional footage, it's provocative in theory but not sleazy. The so-called moralists are saying I've put a priest into a sex film because sex per se doesn't work. What utter bunk!
How did Sins originate?
I started shooting the film in 2003. I first read about this incident in 1998. In a full-page report in a local newspaper, a judge sentenced a priest to death. Then I came across several incidents of priests in taboo relationships. But that wasn't the right time to make it.
Are you aware you've raised a hornet's nest?
Yes. But as a creative artiste, I know my aesthetic and moral responsibilities. Cinema has a far-reaching impact. I know the influence of the medium. Just like a newspaper correspondent maintains a balance and a neutrality in his report, I've made a film that isn't meant to offend anyone.